Subject: Register for tomorrow's metabolism reality check webinar

View this email in a browser | Update your information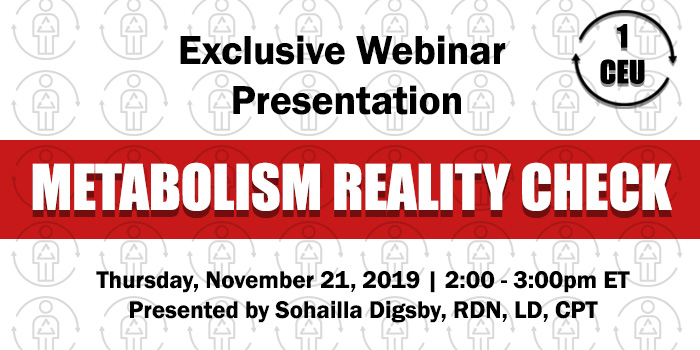 Many factors impact one's metabolism, some of which can be controlled (this may require a reality check) and some cannot (this may require the acceptance of a "new normal" over time). Considerations that impact metabolism include sleep, caloric intake and quality, stress-related hormones, alcohol intake, and weekday vs weekend habits. Varying types of exercise such as resistance training, interval training, and unstructured general movement also have differing metabolic benefits. Muscle loss, metabolic adaptation, and plateaus can affect progress for those with weight management-related goals, as can misinterpreting weight loss for fat loss.

Join Sohailla Digsby, RDN, LD, CPT, international speaker, RD, and fitness pro on Thursday, November 21, 2019 from 2-3 p.m. ET as she reviews the current research, strategies, and practical routines that will help RDs and their clients maximize metabolic health and enhance comprehensive wellness.




Learning Objectives



| | |
| --- | --- |
| 1. | Understand the role different types of exercise plays in boosting metabolism, such as resistance training and high intensity interval training (HIIT). |
| 2. | Identify methods of assessment of fat loss vs general weight loss, and distinguish related cues to help clients manage expectations. |
| 3. | Evaluate metabolic adaptation research and macronutrient research for muscle preservation. |
| 4. | Determine and counsel on the causes of plateaus as they relate to food, exercise and emotions, and implement the appropriate course of action. |
Price: $19.99
1 CEU
Suggested CDR Learning Needs Codes: 2070, 4040, 4060, 5370
Performance Indicators: 8.1.3, 8.2.4, 8.3.6, 8.4.5
Level: 2
About Our Presenter


Sohailla Digsby, RDN, LD, CPT, is a fitness instructor, international speaker, and author. She is a graduate of the University of Georgia and completed her internship at the University Hospital Dietetic Internship in Augusta, Georgia. She resides in Evans, Georgia with her husband of 21 years, and their three children ages 9, 13, and 16.

Sohailla is the founder of the 52-day Best Body Countdown program developed for wellness professionals to bring streamlined nutrition, behavior change and accountability to their centers around the country. She has made a career from the three books she has authored, along with her self-publishing course for RDs and online wellness support groups.

Sohailla is the recipient of several awards, including the 2018 Outstanding Alumnus of the Year, 2016 SCW Presenter of the Year Award and the Georgia Academy's Distinguished Service in Media Award in 2014.
Disclosures


Sohailla Digsby, RDN, LD, CPT has no relevant disclosures to report and certifies that no conflict of interest exists for this program. View our disclosure policy.