Subject: Register before Nov. 6 for sweet rate
View this email in a browser | Update your information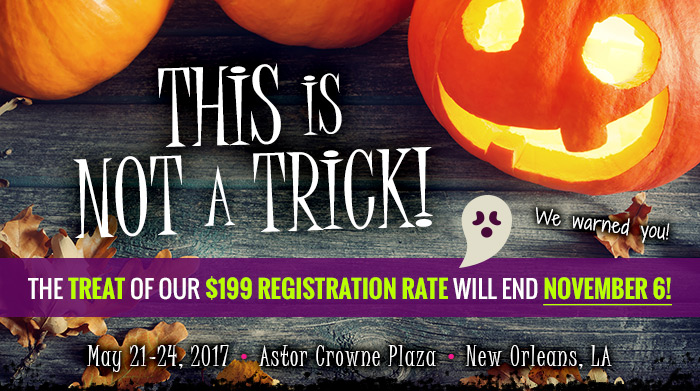 Our $199 registration rate for our 2017 Spring Symposium in New Orleans has always been a limited time rate. That time is now limited to one week. Register for the Spring Symposium now through Sunday, November 6 to get this shocking rate.

This investment is an incredible value for the quality of sessions, presenters, and networking opportunities our unique event will provide. But it's no trick, this treat will last only one more week!



Your registration includes:
Educational sessions and workshops where attendees can earn more than 20 CPEUs
Networking opportunities with peers, presenters, and sponsors
Keynote address
Morning fitness activities
Discounted room rates at the Astor Crowne Plaza
Registration does not include accommodations or travel to and from New Orleans.
Thanks to our sponsors for their support of continuing education in nutrition and dietetics.