Subject: March 1st webinar on spicing up clients' kitchens

View this email in a browser | Update your email preferences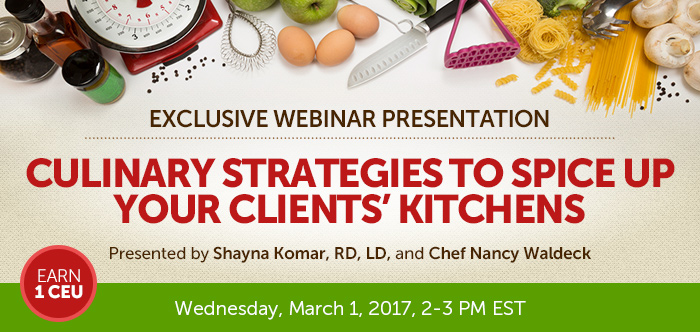 We know that changing culinary lifestyles can be difficult. Healthy foods can seem extremely bland to clients that are accustomed to fat, sugar and other additives. Clients frequently ask how to make their "healthy" food taste good. It is often difficult to take medical nutrition therapy information and translate it into practical kitchen knowledge. One of the best options is to introduce clients to more spices and herbs. They make foods taste better without adding unwanted sugar, fat, salt, calories, and preservatives.

In this webinar, a dietitian and chef work in collaboration to provide practical strategies that RDs can use to help clients prepare food quickly and healthfully, along with kitchen techniques that can be easily adapted by clients.



Learning Objectives


After completing this continuing education course, nutrition professionals should be able to:
Identify barriers that keep clients from purchasing and cooking healthful foods.
Supply a list of kitchen and pantry staples that will allow a client to more easily prepare healthful meals.
Explain and instruct cooking techniques that are critical in the healthy kitchen, including the use of herbs and spices.
Provide clients with 10 usable kitchen techniques that they can implement in preparing healthful foods.
Price: $19.99
1 CEU
Suggested CDR Learning Needs Codes: 8060, 8090, 8100, 8130
Performance Indicators: 8.4.1, 8.4.2, 8.4.3
Level: 2
About Our Presenters



Shayna Komar is a Registered and Licensed Dietitian in Atlanta, GA. She completed her undergraduate degree in Nutrition, Foods, and Exercise at Virginia Tech and her dietetic internship at Johns Hopkins Hospital in Baltimore, MD. Shayna currently contracts with Cancer Wellness of Piedmont Hospital where she provides individual nutrition counseling, cooking classes and group lectures for cancer patients and caregivers. Shayna was the proud recipient of the 2006 Distinguished Dietitian of the Year award from the Academy of Nutrition and Dietetics (Academy). She has presented nutrition lectures all over the United States including Las Vegas, NV for the Oncology Nursing Society, Greenville, SC for the Healing Journey's Cancer Survivor Conference, and Philadelphia, PA for the Living Beyond Breast Cancer Annual Conference. In 2013 she was on the Academy's Speakers Bureau for oncology dietitians. She has been featured as a nutrition expert on Fox News Atlanta, CNN Accent Health, WSBTV Radio, and most recently, 11Alive Atlanta and Company. She writes weekly with her colleague, Chef Nancy Waldeck, on their blog livingandeatingwell.com on the health benefits of spices. Shayna is an avid fitness enthusiast and has been teaching group fitness classes for 20 years. She stays busy at home with her own "sports team" comprised of three young sons and her husband.

Healthy Chef, Partyologist Nancy Waldeck's exuberant approach to healthy cuisine and fun wine leads her to deliver over 100 classes a year in interesting locations - including United States embassies; corporate offices like Google, Southern Company and Norfolk Southern; Hospital Wellness Centers; regular segments on NBC Atlanta and Company; farmers markets; and conferences from 10 to 1000. Nancy loves to partner with Shayna to translate dietetic information and put it into kitchen action for the Thomas F Chapman Family Cancer Wellness Center in Atlanta and other groups interested in eating well and cooking better.
Disclosures


Shayna Komar, RD, LD, and Chef Nancy Waldeck have no relevant disclosures to report. They have certified that no conflict of interest exists for this program. View our disclosure policy.