Subject: Limited-space Symposium workshop on Sunday
View this email in a browser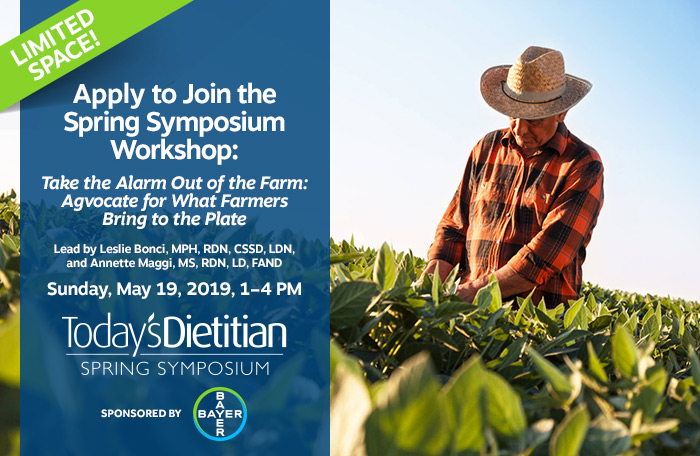 Since you've registered to attend our 2019 Spring Symposium in Scottsdale, AZ, May 19–22, we're inviting you to apply to join a limited-space workshop on Sunday, May 19, from 1–4 PM. Check out the description below and, if attending this 3-hour, 3-CEU workshop interests you, please fill out the application. Those who are selected will be informed well ahead of the Symposium for planning your day on Sunday.

This session is accredited through Bayer.

As today's consumers seek to understand where their food comes from and how it is produced, dietitians must be equipped to communicate and educate on topics of modern agriculture. This workshop kicks off with insights on embracing agricultural co-existence and building and delivering effective communications related to agriculture. Using real life examples and trending topics, attendees will practice message development within the Academy of Nutrition and Dietetics Code of Ethics and assess effective examples of communications related to agriculture. Dietitians will walk away with skills necessary to hone their communication skills and more effectively meet client needs as related to food and agriculture transparency.



Learning Objectives


After attending this session, participants will be able to:
Define commonalities amongst modern agriculture methodologies.
Increase effectiveness of communications on modern agriculture, ensuring alignment with the Code of Ethics.
Develop messages and communication pieces on modern agriculture.
3 CEUs
Learning Needs Codes: 1050, 1140, 2040
Performance Indicators: 1.1.4, 2.1.8, 8.1.2


The Academy of Nutrition and Dietetics (Academy) and Commission on Dietetic Registration (CDR) are not responsible for the provider's interpretation of the Academy/CDR Code of Ethics for the Nutrition and Dietetics Profession or its enforcement as it relates to the scenarios and content presented in this activity.
Workshop Outline
Modern Ag Communications Exercise: Part 1 (15 minutes)


Attendees will be asked to create three key messages as the base of a consumer communication (social posts, blog, etc) on one of the following topics: pesticides, organic, bioengineered food.

Embracing Agriculture Co-Existence: Organic, Conventional & Biotechnology (45 minutes)


This session will address the similarities between organic, conventional and biotech farming systems, and dispel myths between the various agriculture methods. Attendees will be challenged to ensure their decision-making, policy making, and communications align with science and the Academy's professional Code of Ethics while meeting consumer demand for greater transparency to food production methodology. Too often we believe the answer is one way or another, but multiple methods of agriculture can co-exist in today's dynamic and global food supply to provide choice to consumers.
Presenter: Annette Maggi

Communicating with Conviction about Modern Agriculture (45 minutes)


This session will take a deep dive into having tough conversations about topics that may be out of our comfort zone. How do you find a middle ground leading with emotion, rather than facts that infuse with knowledge, and diffuse hostility and misinformation. As effective communicators we must find shared values and engage in conversations where we listen, ask, and share. Visuals, storytelling, humor, sincerity, and clarity result in communications that impact, influence, and involve.
Presenter: Leslie Bonci

Modern Ag Communications Exercise: Part 2 (60 minutes)


Attendees will be asked to share messages prepared in Part 1 of the exercise. Audience members will critique the messages, identify what is done well and discuss how the messages could be made more effective. Presenters will share examples of problematic and effective communications on modern agriculture. Finally, attendees will build out their messages into a full communication piece on modern agriculture.

Questions and Discussion (15 minutes)
Presenters


Leslie Bonci, MPH, RDN, CSSD, LDN, is the owner of Active Eating Advice by Leslie, a nutrition consulting company, and the co-founder of Performance 365, a sports nutrition consulting company. Leslie was a spokesperson for the Academy of Nutrition and Dietetics and is a sought after industry spokesperson. She lectures and writes extensively on topics such as Sciencesationalism, Debunking Nutrition Myths, and performance nutrition. Her clients include The National Dairy Council, General Mills, The Wonderfuls Brands, Gatorade, KLEAN Athlete, Bayer, Potatoes USA and the California Prune Board. For the past six years, she has done the media training for the Academy spokespeople. Leslie has a weekly television segment, The Winning Plate of KDKA-TV (CBS affiliate) in Pittsburgh and is frequently quoted in the media. Her undergraduate degree is in Biopsychology from Vassar College and her MPH is in Nutritional Epidemiology from the University of Pittsburgh.

Annette Maggi, MS, RDN, LD, FAND, is the President of Annette Maggi & Associates, Inc., a strategic nutrition marketing and communications consulting firm specializing in the interface between food manufacturers and retail grocers, and nutrition and regulatory issues. Today's environment revolves around serious health issues and implications; Annette Maggi & Associates, Inc. responds by taking a real and yet refreshing approach to creating and implementing infinitely stronger nutrition strategies that deliver results. Maggi is a sought-after resource in the nutrition and regulatory field with experience at Fortune 500 companies including Pillsbury, General Mills and Target. Current clients include the Retail Dietitians Business Alliance, Arla, Dow AgroSciences, Jennie-O, Bayer, National Cattlemen's Beef Association, Produce for Better Health Foundation, Regular Girl, and the National Grocers Association. Maggi is recognized as a distinguished speaker and writer and has a reputation as a driven performer and partnership builder. Her B.S. degree in dietetics is from the College of St. Benedict and her M.S. degree in nutrition from Rutgers-The State University of New Jersey.



About Our Sponsor


Bayer is a global enterprise with a more than 150-year history and core competencies in the Life Science fields of health care and agriculture. With our innovative products, we are contributing to finding solutions to some of the major challenges of our time. We are committed to operating sustainably and addressing our social and ethical responsibilities, as well as improving people's lives. All this goes to make up our purpose: Science for a better life. www.bayer.com