Subject: Join the Online MS in Nutrition degree program at Simmons!
Email not displaying correctly? View it in your browser.
Thank you for your continued support of Today's Dietitian. Below is information from one of our sponsors: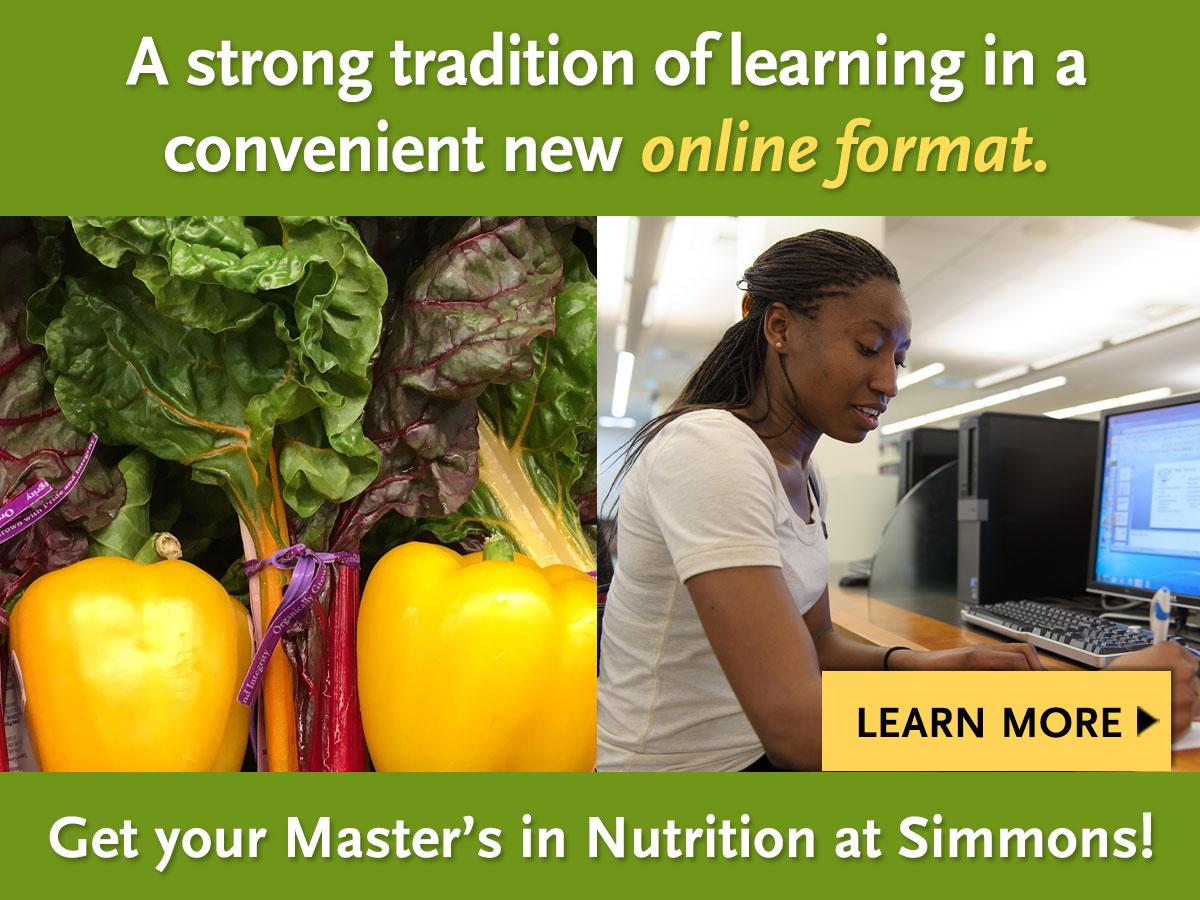 Move your career forward with our innovative and versatile MS in Nutrition and Health Promotion program - now available online for full or part-time students!
Our online program delivers our renowned nutrition degree in an innovative, fully online format. This program enables working professionals to earn their MS while honoring their professional and personal commitments. You'll learn from our expert faculty who are recognized as leaders in their fields and pride themselves on being personal mentors.
Our 31 credit online program features:
A versatile degree emphasizing community nutrition, education and wellness


Specific tracks in Wellness and Entrepreneurship


Quality curriculum in a convenient format great for working professionals


Opportunity to earn a graduate degree ahead of future educational changes proposed by the Academy of Nutrition and Dietetics


No GRE required to apply


LEARN MORE:
VIRTUAL INFO SESSION

Join us on May 8 for a Virtual Information Session about the program. Hear from the SNHS Admission staff regarding tips and techniques on applying to the program and hear from Ruby Winslow Linn Professor and Chair, Nutrition Department, Dr. Elizabeth Metallinos-Katsaras about the curriculum and career pathways. Register now!
At Simmons, we have a long history of providing quality graduate programs in Nutrition, and our students are passionate about helping others live healthier lives.
Whether you are a Registered Dietitian looking to earn a graduate degree for career advancement or just entering the field of nutrition, let our convenient online program help you reach your professional goals. Start full or part-time in Fall 2018!
The application deadline for Fall 2018 is June 1, 2018. Apply to the Online MS in Nutrition and Health Promotion program today and make your move to Simmons!


Video: Simmons Graduate Nutrition Programs
Simmons School of Nursing and Health Sciences
300 The Fenway, S332
Boston, MA 02115
T: 1-617-521-2605
F: 1-617-521-3137
E: snhs@simmons.edu
W: www.simmons.edu/snhs

Preparing the Future Leaders of Healthcare.