Subject: Do you have questions about changes to the new USDA Pediatric Feeding Guidelines?

View this email in a browser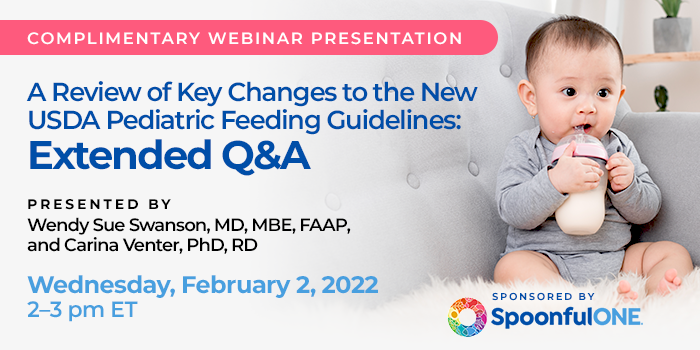 In 2020, the USDA released its updated Dietary Guidelines for Americans (DGAs). For the first time, this edition of the DGAs provides recommendations by life stage, beginning from birth. This update presents many opportunities, as well as challenges, for RDs.

Due to the overwhelming number of questions that came in during the original webinar, Wendy Sue Swanson, MD, MBE, FAAP, and Carina Venter, PhD, RD, will host a complimentary extended Q&A session on Wednesday, February 2, from 2–3 pm ET. Get all your questions about the new pediatric recommendations answered during this one-hour, Q&A-only webinar.
Did you miss the original webinar? Watch the recorded version here!
About Our Presenters
| | |
| --- | --- |
| | |
| Wendy Sue Swanson, MD, MBE, FAAP, is a pediatrician and Chief Medical Officer for SpoonfulONE. | Carina Venter, PhD, RD, is an Associate Professor of Pediatrics-Allergy/Immunology at the University of Colorado School of Medicine. |
About Our Sponsor


SpoonfulONE is the most complete way to introduce and keep food allergens in a baby's diet. The New USDA Guidelines recommend that as soon as babies start solids at 4–6 months of age, they should routinely eat common allergens such as peanuts, egg, cow's milk products, tree nuts, wheat, shellfish, fish, and soy. Developed by Stanford University pediatric allergist Dr. Kari Nadeau, SpoonfulONE products — Mix-Ins, Puffs, and Oat Crackers — contain 16 foods covering over 90% of food allergies, making it easier for parents to follow the new USDA Guidelines and routinely feed common allergens. SpoonfulONE is available at select Target stores across the nation, Target.com, Amazon.com, and SpoonfulONE.com.



Disclosures


The speakers have the following relevant disclosures to report: Wendy Sue Swanson, MD, MBE, FAAP, is a SpoonfulOne stock shareholder and has received speaking honoraria from the Leigh Bureau. She certifies that no conflict of interest exists for this program. Carina Venter, PhD, RD, has received grant/research support from Reckitt Benckiser and Abbott, Nestle Nutrition Institute, Danone, Before Brands, Else Nutrition, and Sifter. View our disclosure policy.