Subject: Credit claiming for webinar on Nutrition and Oral Health: A Primer for RDs

View this email in a browser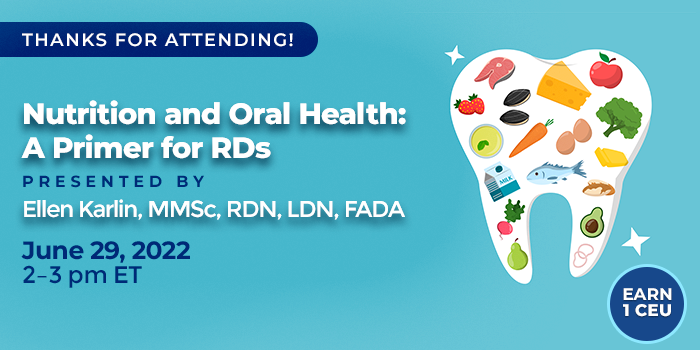 Thank you for attending our webinar Nutrition and Oral Health: A Primer for RDs, presented by Ellen Karlin, MMSc, RDN, LDN, FADA, on Wednesday, June 29, 2022 from 2-3 p.m. EDT.

Credit Claiming


You must complete a brief evaluation within one year of the live program (before June 28, 2023) to claim your CE credit and download your certificate.
Follow these instructions to download your CE certificate:

| | |
| --- | --- |
| 1. | Log on to CE.TodaysDietitian.com, go to "My Courses" and click on the webinar title. |
| 2. | Click "Take Course" on the webinar description page. |
| 3. | Select "Start/Resume Course" on the webinar description page. |
| 4. | Complete and submit the evaluation. |
| 5. | Download and print your certificate. |
Recorded Version


We will be posting a recorded version of the webinar as soon as possible on CE.TodaysDietitian.com to make all the great information presented and the continuing education credit available to all professionals.

Call 877-925-CELL(2355) or email ce@gvpub.com Monday through Friday from 9 am to 5 pm ET with any questions in regards to this webinar.