Subject: Complimentary webinar on evidence-based nutrition
View this email in a browser | Update your information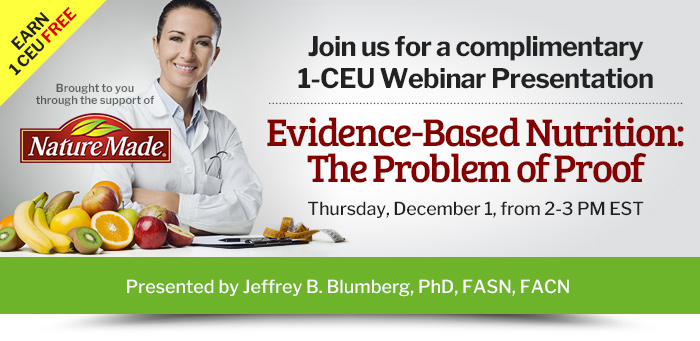 Randomized clinical trials (RCTs) are accepted as the "gold standard" for establishing cause-and-effect relationships. Nonetheless, most nutrition RCTs have demonstrated null outcomes with regard to reducing the risk of chronic disease. This has led to skepticism about the importance of specific nutrients or nutrient combinations in health and disease by clinicians, researchers, funding agencies, and the public. There are distinct differences between the evidence needed for testing of drugs versus that needed for the development of nutrient requirements and dietary guidance.

Action to define requirements for nutrients and dietary bioactive components or to recommend dietary guidelines to promote health and/or reduce the risk of chronic disease cannot be based on a single research approach and should be taken at a level of confidence that is different from that needed in the evaluation of drug efficacy and safety in the treatment of disease. Advancing evidence-based nutrition from its current version to one based upon more relevant and realistic criteria will depend upon research approaches that include RCTs but go beyond them.

In this webinar, Dr. Jeffrey B. Blumberg, Professor at the Friedman School of Nutrition Science and Policy, will provide an overview of the common research strategies and will provide RDs with relevant and practical skills for interpreting data and evidence-based recommendations to patients and clients.



Learning Objectives


After completing this continuing education course, nutrition professionals should be able to:
Describe the hierarchy of research strategies for evidence-based nutrition.
Outline the strengths and limitations of each research strategy to establish the relationship between a nutrient, food or dietary pattern and a health outcome.
Discuss some key distinguishing characteristics between the nature of randomized clinical trials on nutrition versus drug interventions.
Understand the difference between confidence in and certainty of research results for their translation into action or policy.
CPEUs: 1
Suggested CDR Learning Needs Codes: 9020, 9050, 9060, 9070
Performance Indicators: 4.1.2, 6.2.1, 6.2.5, 6.3.11
Level: 2
About Our Presenter


Dr. Blumberg is a Professor in the Friedman School of Nutrition Science and Policy and also serves as a Senior Scientist in the Antioxidants Research Laboratory at the Jean Mayer USDA Human Nutrition Research Center on Aging at Tufts University. His research is focused on the biochemical basis for the role of antioxidant nutrients and their dietary requirements in promoting health and preventing disease during the aging process via changes in status of oxidative stress, glucoregulation, and inflammation. He has published more than 300 scientific articles and serves on the editorial boards of several scientific journals.

In 2015, Dr. Blumberg was included in Thomson Reuters List of the World's Most Influential Scientific Minds (top 1% of cited researchers in his field, 2002-2014). Dr. Blumberg also participates in activities relevant to the incorporation of sound nutrition science into public health policy and has served as a member of the Workshop on Health Promotion and Aging in the office of the U.S. Surgeon General, Sports Medicine Committee of the U.S. Olympic Committee, Consultation on Preparation and Use of Food-Based Dietary Guidelines for the WHO/FAO, Food Advisory Committee of the FDA, and other committees.

Dr. Blumberg received BPharm in Pharmacy and a BS in Psychology from Washington State University and a PhD in Pharmacology from Vanderbilt University School of Medicine. He also received postdoctoral training in cyclic nucleotide metabolism at the Tennessee Neuropsychiatric Institute and the University of Calgary.



About Our Sponsor


Nature Made® is the #1 selling national vitamin and supplement brand in traditional retail scanning outlets.** Manufactured by Pharmavite, Nature Made has developed quality vitamins, minerals and supplements for 45 years. Nature Made adheres to strict manufacturing standards and was the first national supplement brand to have a product verified by United States Pharmacopeia (USP), and Nature Made is the national supplement brand with the most products carrying the USP Verified Mark—verification that products meet stringent quality criteria for purity and potency. Visit NatureMade.com for more information.

**Based in part on data reported by Nielsen through its Scantrack® service for the Total Vitamins category for the 52-week period ending 8/27/2016 in US xAOC and US Food Drug Mass channels. ©2016 The Nielsen Company.
Disclosures


Dr. Blumberg reports the following relevant disclosures: he serves on the scientific advisory boards of AdvoCare, Cranberry Institute/Cranberry Marketing Committee, Herbalife, Pfizer Consumer Healthcare, Pharmavite, Quaker Oats and SmartyPants. He has certified that no conflict of interest exists for this program. View our disclosure policy.