Subject: 2018 Symposium Call for Presenters
View this email in a browser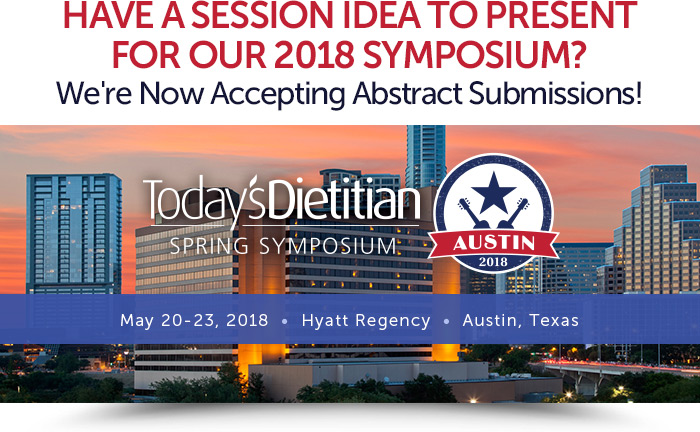 Are you interested in presenting at the Today's Dietitian 2018 Spring Symposium in Austin, Texas on May 20-23? If so, then we invite you to share your expertise with your colleagues! Individual or group proposals for 90-minute continuing professional education sessions are now being accepted for consideration.



Abstracts will be accepted

now through July 31, 2017!


In your abstract, please provide a written summary of no more than 250 words setting forth a narrative overview of the proposed content of your presentation. Submissions should also include:
Presenter's first and last name
Email address
Phone number
Three to five Learning Objectives for the presentation
One to four Suggested CDR Learning Need Codes and one to four Performance Indicators
Your abstract should be submitted as a Microsoft Word file via email symposium@gvpub.com. Click here for printable instructions.

The venue is conveniently located near Lady Bird Lake, a hiking/biking trail, and South Congress Bridge, which puts you just steps away from downtown Austin. We think this year will be our biggest and best year yet, so we'd love for you to be a part of it!