Subject: Your New Symposium Attendee Insider
View this email in a browser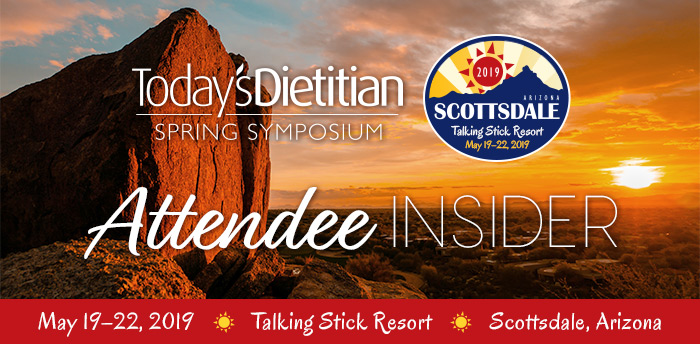 29 DAYS TO SHOWTIME!
News for our Spring Symposium attendees to use!
LET'S DO LUNCH!


Lunch at the Symposium will feature presentations to keep your mind nourished while you fuel your body. Here are the rooms and presentations for each day. Take a look at each one because we'll be sending you an email next week asking for your preferences for Monday's lunch! Please keep an eye on your Inbox for that and respond as promptly as you can.



Monday, May 20 — 12 PM


Each presentation includes a buffet lunch, all with vegetarian/vegan-friendly options.

Management of Irritable Bowel Syndrome: The Key Role of the Dietitian-led FODMAP Diet
Presented by Peter Gibson, MD
Sponsored by Monash University


LOCATION: SALT RIVER 1/2/3





Dietitians Transform the Plate with Pulses


Presented by Sharon Palmer, RDN, MS in Sustainable Food Systems, The Plant‑Powered Dietitian, Sustainability and Plant-Based Foods Expert
Sponsored by USA Dry Pea & Lentil Council and American Pulse Association


LOCATION: ROADRUNNER



Digging Deep: Modern Farms Share Practices for Growing Nutritious, Delicious Food
Presented by Pam Smith, RDN, Meagan Kaiser, Dr. Joel Ransom, and Brent Harrison
Sponsored by SoyConnection by the United Soybean Board


LOCATION: SALT RIVER 6/7/8





Tuesday, May 21 — 12 PM


On Tuesday, lunch will be provided in the Exhibit Hall following these lunch presentations.

First 1,000 Days: Emerging Research & Latest Trends
Presented by Diana K. Rice, RDN, LD, CLEC
Sponsored by The Egg Nutrition Center


LOCATION: SALT RIVER 6/7/8





Diversifying Revenue for the Entrepreneurial RD


Presented by Jeanne Petrucci, MS, RDN
Sponsored by Simple Mills


LOCATION: SALT RIVER 1/2/3



Information on breakfasts at the Symposium will be in an upcoming Attendee Insider!
EVENT SCHEDULE & PRESENTERS


Our full event schedule is posted on the event website at TodaysDietitian.com/ss19. It includes all the sessions and presenters, so start crafting your own Symposium schedule by selecting which sessions and events you would like to attend.
ACCOMMODATIONS




HAVE YOU BOOKED YET?


If you have not yet booked your room at Talking Stick Resort, please do so as soon as possible because limited rooms remain. Click here for direct access to book now.
EXHIBIT HALL


Our high-energy Exhibit Hall will once again feature a diverse and engaged group of exhibitors for you to visit, as well as sample products.

Exhibit Hall Hours:
Monday, May 20: 5:15 pm – 7:30 PM (Includes Opening Reception)
Tuesday, May 21: 12:45 pm – 2:45 PM (Includes Lunch)
Thanks to our 2019 sponsors for their support of continuing education in nutrition and dietetics