Subject: Wednesday's webinar on understanding weight stigma

View this email in a browser | Update your information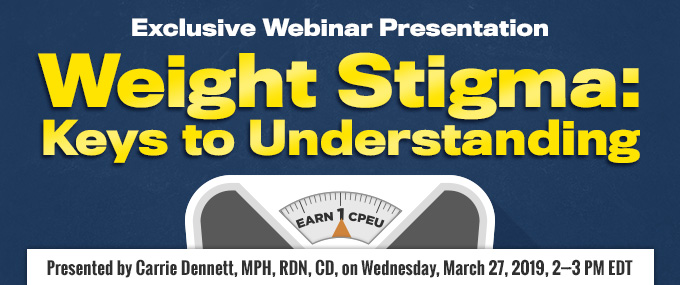 The impact of weight on health is a major focus of the medical and dietetic fields, yet weight stigma is prevalent in healthcare and is unaccounted for in mainstream obesity research. This webinar will review the growing body of research identifying negative physical and psychosocial health consequences of weight stigma, and attendees will leave with a better understanding of how to critically assess obesity research and evaluate their own biases and assumption, enabling them to provide better patient care.



Learning Objectives


After completing this continuing education course, nutrition professionals should be able to:
Better evaluate research on weight and health.
Use non-stigmatizing language in written and oral communications.
Demonstrate an understanding of the impact of external and internalized weight stigma.
Identify personal weight-based biases and stereotypes
List resources for further education on weight stigma.
Price: $19.99
1 CPEU

Suggested CDR Learning Needs Codes: 4000, 4090, 5200, 6020
Performance Indicators: 1.3.3, 2.2.2, 4.2.2, 8.2.2
Level: 2
About Our Presenter


Carrie Dennett, MPH, RDN, CD, is a Pacific Northwest‑based registered dietitian nutritionist, journalist, author and blogger. She writes a weekly nutrition column for The Seattle Times and contributes regularly to The Washington Post, Today's Dietitian magazine, Environmental Nutrition newsletter and New Day Northwest on Seattle NBC affiliate KING5-TV. Carrie is the author of Healthy For (Your) Life: A Holistic Approach to Optimal Wellness, and owner of Nutrition By Carrie. She is a second‑career dietitian who worked as a newspaper journalist for many years before earning her Master of Public Health in nutritional sciences from the University of Washington.



Disclosures


Carrie Dennett, MPH, RDN, CD, has no relevant disclosures to report. She has certified that no conflict of interest exists for this program. View our disclosure policy.