Subject: Webinars coming in September
View this email in a browser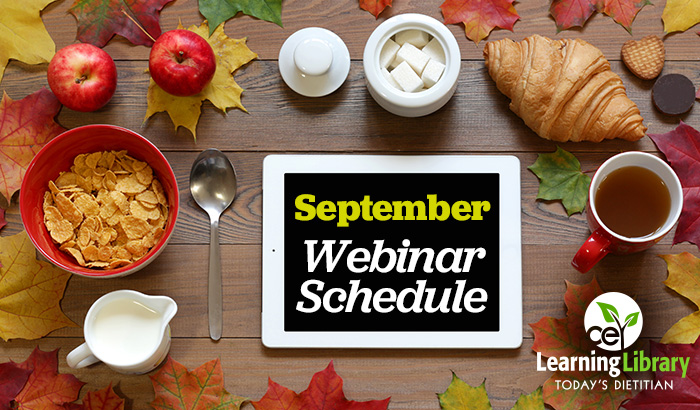 WEBINARS ON THE CALENDAR IN SEPTEMBER!
Fall is just around the corner, and so are the opportunities to earn CEUs with our exclusive webinars. We've got quality presenters and topics coming up in these webinar presentations.
Register now and put these webinars on your calendar!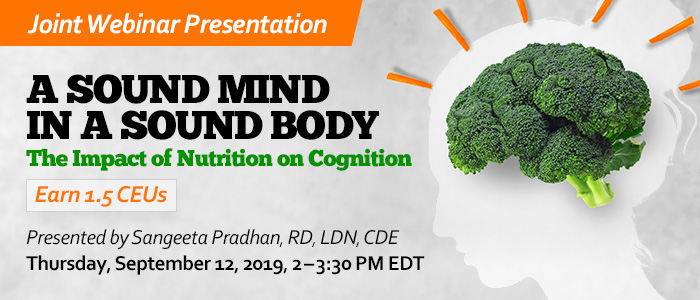 On Thursday, September 12, 2019, from 2–3:30 PM EDT, Sangeeta Pradhan, RD, LDN, CDE, will review how dietary patterns, dietary components, and exercise might synergistically help mitigate the adverse effects of the oxidative stress produced by poor dietary choices. Sangeeta will focus on neurogenesis, neuroplasticity and the role of neurotrophins in modulating neuroplasticity.

She will also provide a comprehensive review of the impact of specific factors such as DHA, curcumin, folate, vitamin E, flavonoids, the Mediterranean diet, and caloric restriction on brain-derived neurotrophic factor, or BDNF.

The session will also cover gut peptides, the bi-directional gut-brain axis, the role of gut bacteria, how the production of neurotransmitters can influence mood and cognition, and the similarities between Type 2 diabetes and Alzheimer's. Given the pivotal role that diet plays, it is incumbent upon RDs to translate this research into meaningful food choices for an aging population.

This is a 1.5 CEU presentation produced jointly by Today's Dietitian and Becky Dorner & Associates.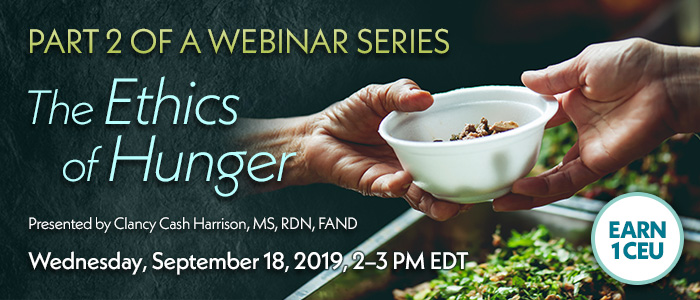 Hunger is an ethical issue first — it isn't just a philanthropic or moral issue. Bringing assumptions and perceptions about a person's access to healthy food hurts our clients' health. If we don't ask the right questions about food insecurity, we inadvertently encourage the stigma associated with food assistance; we contribute to the increase in 10 major chronic diseases and exacerbate existing chronic disease; and we perpetuate the cycle of poor food access.

In the second of this two-part series, Clancy Cash Harrison, MS, RDN, FAND, will bridge the knowledge gap between the overall health of our clients and food insecurity. She will dive deep into the ethics of the food insecurity epidemic, focusing on the symptoms, risk factors, and the costs of allowing food insecurity to go untreated.

Clancy will also discuss the important dynamic of patient care, sharing coping mechanisms, all-important techniques to screen patients with sensitivity, and how to use patient-centered language to reduce the stigma of food insecurity.

This webinar is pre-approved by the CDR for 1 ethics credit.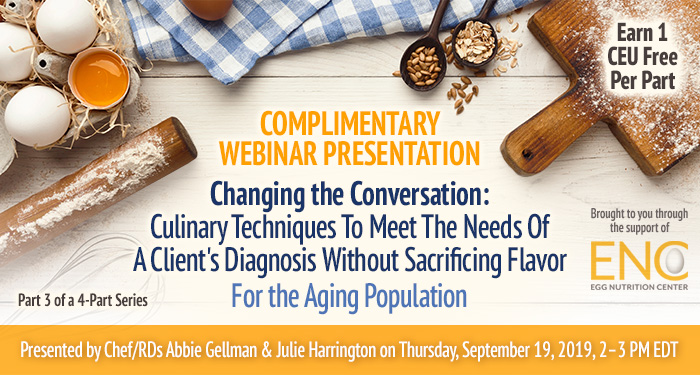 Change the conversation when discussing dietary protocols with clients. Instead of educating them on what they need to limit or "can't have" per diagnosis protocol, empower them with foods they CAN eat and healthy cooking techniques that can be used at home to prepare flavorful food. Bridge the gap of nutrition education with what clients understand about food.

On Thursday, September 19, 2019, from 2–3 PM EDT, in part three of this four-part webinar series, Chefs Abbie Gellman, MS, RD, CDN, and Julie Harrington, RD, will discuss how to talk to clients about dietary changes for diseases related to aging, such as dementia, osteoporosis, sarcopenia, Alzheimer's, and cognitive decline/mental health.

The presenters use evidence-based science and translate it through food and behavior change techniques specifically geared toward the aging population. Learn how to evaluate clients' cooking skills and confidence in the kitchen, and set realistic food-focused behavior-change goals.

This webinar is the third of a four-part webinar series, featuring a new diagnosis that is discussed in Q1, Q2, Q3, & Q4. Listen to the recorded versions:



• Part 1, Culinary Techniques to Meet the Needs of Diabetes and Heart Disease, here.
• Part 2, Culinary Techniques to Meet the Needs of Digestive Disorders, here.


This complimentary 1-credit continuing education webinar is brought to you with support from Egg Nutrition Center.