Subject: Webinar on Working with Plant-Based Athletes
Trouble viewing this e-mail? Go here. | Unsubscribe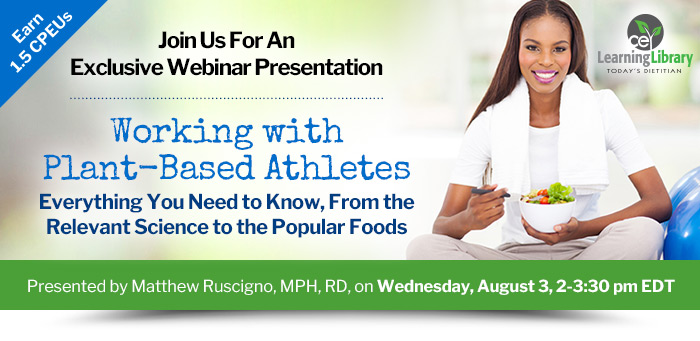 'Plant-based athlete' may seem like an anomaly, but interest is growing in this niche as more athletes move away from consuming animal foods. This continuing education webinar will look at the supporting science and the practical applications for working with athletes who want to add more plant foods to their training regimen. Protein adequacy, iron status, caloric needs, and antioxidants will be discussed; as will actual foods and meals. Current research will be reviewed, as well as the practical application of that research via case study.

Plant-based athlete and dietitian, Matthew Ruscigno, MPH, RD, will bring this session to life by emphasizing key strategies for working with the plant-based athlete population in real life.



Learning Objectives



After completing this continuing education course, nutrition professionals should be able to:
Describe the nutritional make-up of a plant-based athlete's diet.
Discuss the rationale for plant-based eating patterns.
Identify key nutrients and their plant food sources.
List the three areas of concern when counseling a plant-based athlete.
Provide clients with science-based, practical recommendations for adding plant foods.
Price: $24.99
CPEUs: 1.5
Suggested CDR Learning Needs Codes: 3020, 4060, 4110
Performance Indicators: 8.2.1, 8.2.3, 8.2.4, 12.2.1
Level: 2
About Our Presenter



Matthew Ruscigno, MPH, RD, is the past Chair of the Vegetarian Nutrition Practice Group of the Academy of Nutrition and Dietetics and the co-author of No Meat Athlete. Matt works with vegan athletes through his private practice in Los Angeles, CA and with his documentary video series, Strongest Hearts. An athlete himself, he races ultramarathons, ironmans and is a 3-time solo finisher of the Furnace Creek 508, a 500-mile non-stop bicycle race through Death Valley.



Disclosures



Matthew Ruscigno, MPH, RD, has no relevant disclosures to report regarding this program. He has certified that no conflict of interest exists for this program. View our disclosure policy.