Subject: Webinar on Reimbursement coming Oct. 11

View this email in a browser | Update your email preferences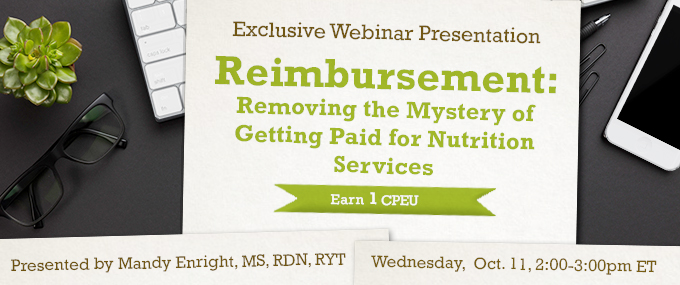 A recent survey of Registered Dietitian Nutritionists revealed that approximately 50% of RDNs in private practice are enrolled with insurance providers. Reasons cited by RDNs for not taking insurance include being unsure or overwhelmed with the enrollment process, time constraints, and lack of resources. Other RDNs assume that their services will not be covered. However, more consumers are seeking nutrition assistance for preventive and medical nutrition therapy care through their insurance providers.

Many insurance companies are now offering some form of coverage for preventive care and MNT with reimbursement for credentialed RDNs. In this session, participants will assess the pros and cons of taking insurance, learn the processes for getting started with credentialing, benefits verification, and claim submissions. Attendees will receive information on resources and tools for reimbursement, and troubleshooting tips for common roadblocks encountered with insurance companies. This session will primarily focus on working with private pay insurance companies, while addressing some Medicare basics.



Learning Objectives


After completing this continuing education course, nutrition professionals should be able to:
Assess if accepting reimbursement is appropriate for business.
Establish Tax ID, NPI number, and CAQH log-in to start credentialing process.
Outline process for benefits verification and claim submissions.
Provide resources to providers for assistance with reimbursement matters.
Create solutions for time management and when services are not covered or expired for the year.
Price: $19.99
1 CPEU
Suggested CDR Learning Needs Codes: 4040, 5000, 7070, 7170
Performance Indicators: 1.2.3, 1.4.5, 3.2.1, 8.3.5
Level: 2
About Our Presenter


Mandy Enright, MS, RDN, RYT, loves sharing her passion for healthy living. A prior career as an advertising executive afforded Mandy with skills necessary for creating and marketing her nutrition and fitness consulting business. Mandy is frequently sought by her colleagues for business coaching, branding, and marketing expertise.

Mandy runs a successful private practice along the Jersey Shore and has been managing her own reimbursement matters since opening her practice several years ago. She currently serves as the Reimbursement Representative for Nutrition Entrepreneurs DPG of the Academy of Nutrition & Dietetics where she provides education and insights to her dietitian colleagues at all levels of accepting insurance. To learn more about Mandy, visit www.mandyenright.com.
Disclosures


Mandy Enright, MS, RDN, RYT, has no relevant disclosures to report. She has certified that no conflict of interest exists for this program. View our disclosure policy.