Subject: Today's webinar has been rescheduled

View this email in a browser | Update your information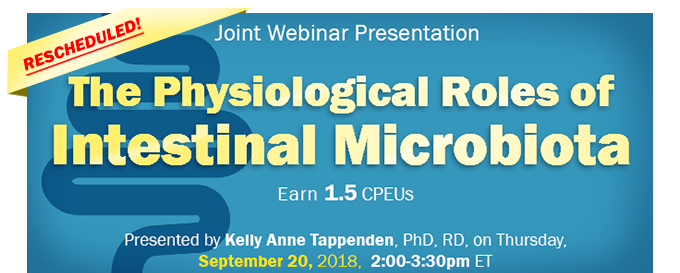 This webinar was originally scheduled for August 30,
but has been rescheduled for September 20.

All original registrations have been transferred to the new date.

There are many physiological functions of the intestinal microbiota. Dysbiosis, or microbial imbalance within the gut, can manifest in a variety of symptoms. When dysbiosis is observed, RDs are in a position to provide recommendations regarding optimal diets to support intestinal colonization and microbiota resilience.

This webinar will examine the many physiological roles of the intestinal microbiota, the diagnoses associated with intestinal dysbiosis and how nutrition can optimize this important community.



Learning Objectives


After completing this continuing education course, nutrition professionals should be able to:
Articulate the many important physiologic functions of the intestinal microbiota
Recognize signs and symptoms in individuals at high risk for dysbiosis
Prescribe nutritional strategies, including the use of pre- and probiotics aimed at optimizing the intestinal microbial community
$34.95
1.5 CPEUs
Suggested CDR Learning Needs Codes: 2080, 4040, 5220
Performance Indicators: 6.3.11, 8.1.2, 10.2.5
Level: 2
About Our Presenter


Dr. Tappenden received her B.S. and Ph.D. in Nutrition and Metabolism at the University of Alberta in Edmonton, Canada. Dr. Tappenden is also a Registered Dietitian, having completed clinical training at the Misericordia Hospital in Edmonton, Alberta. After completing a post-doctoral fellowship at the University of Texas-Houston Medical School, she joined the faculty at UIUC in August 1997 as an Assistant Professor of Nutrition. In 2003, she was promoted to Associate Professor with indefinite tenure.

Dr. Tappenden enjoys teaching within her own laboratory, advanced undergraduate and graduate nutrition courses. While working in Dr. Tappenden's research group, many of her colleagues-in-training have received prestigious awards from the University of Illinois, the American Society of Nutritional Sciences and the American Society of Parenteral and Enteral Nutrition. Dr. Tappenden works mostly on academic programs as an Associate Dean of the Graduate College. For her efforts in the classroom, Dr. Tappenden has been listed on the University of Illinois Incomplete List Of Teachers Ranked As Excellent by Their Students nine times in the past eleven years. In 2004, Dr. Tappenden was appointed to the University of Illinois College of Agricultural, Consumer and Environmental Sciences Academy of Teaching Excellence.



Disclosures


Dr. Tappenden has no relevant disclosures to report. She has certified that no conflict of interest exists for this program. View our disclosure policy.