Subject: Today's Dietitian Spring Symposium Attendee Insider
View this email in a browser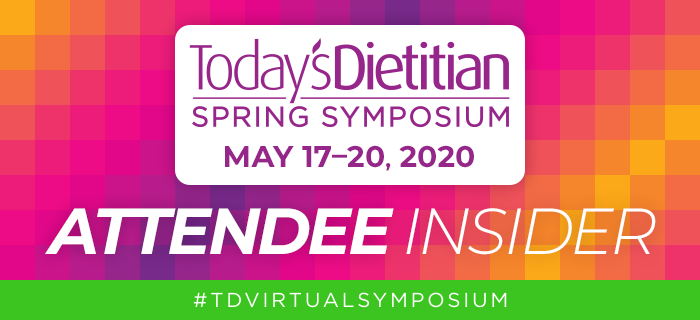 Important Session Details!


The 2020 Today's Dietitian Spring Symposium begins on Sunday! Please see below for additional information and important downloads that will assist you during each of the live sessions. Please download the pre-event materials prior to the start of each session for further instructions as well as a copy of the presentation slideshow for note-taking purposes. After logging in, you will need to enter the Access Code: SSTD20 to view and download the materials.




Program Guide


We are excited to provide you with the official Program Guide! This will be an important resource as you navigate the live sessions, Virtual Exhibit Hall, and more. It provides details of each session along with access instructions and other useful information that will help you maximize your experience.

Please bookmark this link, as you will refer to this document often throughout the event.



Session Access Instructions


More extensive information is available in the Program Guide, but here are some basic access instructions for joining the live sessions:

Select the session you'd like to attend from the Virtual Symposium schedule. (You may want to bookmark this page since you'll be coming back to it often throughout the Symposium.)
Click on the Join Session button for the session you'd like to join.
When you get to the login page for your selected session, complete the form by filling in your first name, last name, company, and e-mail address.
Click Submit.
Enter this password to join the session: SSTD20.
You must listen to the session through your computer speakers. There is no telephone dial-in access.
Games, Prizes, and Experts
Virtual Happy Hour
Sponsored by Carlson
Tuesday, May 19th | 4:15 pm – 6:00 pm EDT
Spend some quality time with your colleagues. You might just win something too! Grab your favorite cocktail/mocktail and join in the fun and games. Carlson educators will also be on hand to answer your questions.

The first RD to join the Happy Hour will win a prize!

Join Us!
https://us02web.zoom.us/j/86159431326
Meeting ID: 861 5943 1326
Social Media




#TDVirtualSymposium

Please use our 2020 Virtual Symposium hashtag #TDVirtualSymposium in your posts and tweets leading up to and during the event. Our meeting hashtags have regularly trended #1 on Twitter, so we're asking you to help keep that streak alive and let everyone know how much you are enjoying the program! Also, please tag Today's Dietitian on all of your Facebook, Twitter, and Instagram posts over the course of the event!
Thanks to our 2020 sponsors for their support of continuing education in nutrition and dietetics.