Subject: Today – Free 1 CEU Webinar on Gut Health and the Role of Prebiotics, Probiotics, and Postbiotics

View this email in a browser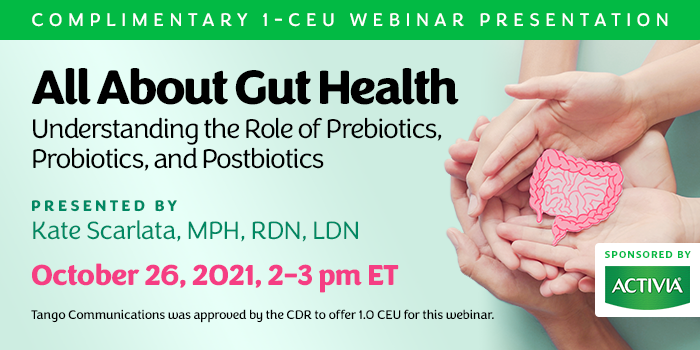 Join Kate Scarlata, MPH, RDN, LDN, on Tuesday, October 26, from 2-3 pm, ET, for a in-depth webinar on the gut microbiome, including the latest science, research, and lifestyle behaviors that every dietitian should know in order to advise their clients appropriately.

An introduction on how prebiotics, postbiotics, and probiotics can be a favorable addition to a healthy lifestyle as well as contribute to the gut microbiome will be presented, including definition and discussion of the gut microbiota, gut microbiome and the metabolome. The latest research will be shared regarding the benefits of consuming fermented foods, the importance of using strain-specific probiotics for certain benefits, and how probiotics and live cultures in food differ.

Kate will discuss the influence our lifestyle — including sleep hygiene, exercise, and stress reduction — has on the gut microbiome and our immune health. Finally, an overview of the gut-brain axis and its bi-directional influence on emotional well-being and gut health will also be explored.



Learning Objectives
| | |
| --- | --- |
| 1. | Describe the difference between live and active cultures, probiotics, prebiotics, and postbiotics. |
| 2. | Detail key factors clients should consider when selecting probiotics for a specific benefit. |
| 3. | Analyze three foods that contain prebiotics and discuss what clients should look for on food labels. |
| 4. | Describe how the gut and brain interact via our gut microbes. |
1 CEU FREE
Suggested CDR Performance Indicators: 4.1.1, 4.1.5, 10.1.2, 10.1.3
CPE Level: 2
About Our Presenter


Kate Scarlata, MPH, RDN, LDN, is a Boston-based dietitian with 30 years of experience. Kate's expertise is in gastrointestinal disorders and food intolerance, with a particular focus on the application of the low FODMAP diet for functional gut disorders. She was awarded the Outstanding Massachusetts Dietitian Award and recognized as Boston's Best Dietitian by Boston Magazine. Kate is the author of numerous books and articles on digestive health topics including the New York Times Best Seller, "The 21 Day Tummy Diet." Her latest book is "The Low FODMAP Diet Step by Step." Kate completed her postgraduate training at Brigham and Women's Hospital, a Harvard Medical School teaching affiliate.
About Our Sponsor


For the past 20 years, Activia has been pioneering probiotic research. Each product contains our live cultures as well as billions of our exclusive live and active probiotics. With our great taste, new product innovations, and our firm belief that it all starts in the gut, we craft each product to help support your gut health.1 Activia is the pioneer in probiotics for a reason: the brand has led probiotics research for over 20 years, and is the #1 doctor recommended probiotic,2 and the #1 gut health brand in the U.S.3 www.activiareferralpad.com

1. Activia may help reduce the frequency of minor digestive discomfort when consumed twice a day for two weeks as part of a balanced diet and a healthy lifestyle. Minor digestive discomfort includes gas, bloating, rumbling and abdominal discomfort.
2. Based on a nationwide survey of 400 doctors (Primary Care, Gastroenterology, OB/GYN).
3. Leading brand based on sales of products labelled as containing probiotics, U.S. Market, IRI last 52 weeks ending November 1, 2020.



Disclosures


Kate Scarlata, MPH, RDN, LDN, has the following relevant disclosures to report: she is a consultant to Danone, A2 Milk Company, Beckon, Gastro Girl, Belli Welli Snacks. She is a stock shareholder in FODY Foods, Epicured, LLC, GI onDemand and has received honoraria from FODY Foods and GI onDemand. View our disclosure policy.