Subject: Thursday's webinar on renal nutrition practice guidelines

View this email in a browser | Update your email preferences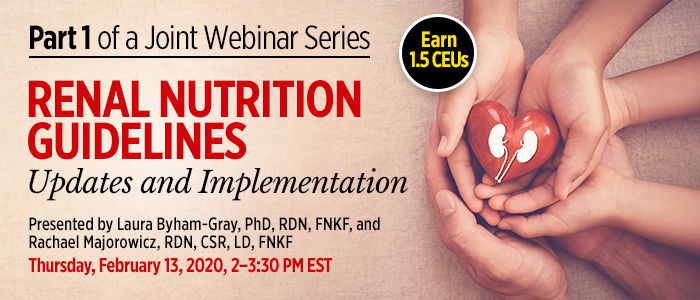 According to the National Kidney Foundation, one in three US adults is at risk of developing chronic kidney disease (CKD) and more than one in seven US adults are estimated to have CKD. Those with kidney disease may experience other health problems, including heart disease and high blood pressure; with the help of RDNs patients can take steps to protect their kidneys.

On Thursday, February 13, 2020, from 2–3:30 PM EST, join Laura Byham-Gray, PhD, RDN, FNKF, and Rachael Majorowicz, RDN, CSR, LD, FNKF, for part one of a two-part series as they review the newly updated, evidence-based renal nutrition practice guidelines and supporting evidence. Learn how to maximize the effectiveness of nutrition interventions (MNT) for adults with CKD and understand how to apply the new guidelines in practice in order to improve patient outcomes. Laura and Rachael will share readily available resources and take participants through problem solving for challenging, real-life patient care situations. Leave this session with ideas, tools, and processes that will help you guide clients with CKD down a road to a healthier life.



Learning Objectives



| | |
| --- | --- |
| 1. | Evaluate and synthesize evidence-based nutrition therapy recommendations for adults with chronic kidney disease. |
| 2. | Identify recommended changes to nutrition therapy interventions for patients with chronic kidney disease. |
| 3. | Implement at least three evidence-based nutrition therapy recommendations in daily practice with specific focus on clients with chronic kidney disease. |
Price: $27.50
1.5 CPEUs
Suggested CDR Learning Needs Codes: 4010, 4040, 5340, 9020
Performance Indicators: 4.1.2, 6.2.5, 8.1.5, 8.3.6
Level: 2
Registration will take place on the Becky Dorner & Associates website.
About Our Presenters


Laura Byham-Gray, PhD, RDN, FNKF, is a Professor and Vice-Chair for Research in the Department of Clinical and Preventive Nutrition Sciences, School of Health Professions at Rutgers University. Prior to teaching, Dr. Byham-Gray practiced in the field of clinical nutrition with specialty practice in nutrition support and kidney disease for over 15 years. She has held numerous elected and appointed positions at the national, state, and local levels of National Kidney Foundation, The American Society of Parenteral and Enteral Nutrition, and the Academy of Nutrition and Dietetics. Currently, Dr. Byham-Gray is chairing the Macronutrients Section of the joint NKF and Academy KDOQI/EAL Clinical Practice Guidelines in Nutrition in CKD. She has also served as the associate editor for the National Kidney Foundation publication, the Journal of Renal Nutrition. Dr. Byham-Gray has over 100 peer-reviewed articles and professional presentations related to kidney disease, dietetics practice, and clinical decision-making as well as management. Dr. Byham-Gray received her bachelor of science in nutrition and dietetics from Mercyhurst University in Erie, Pennsylvania, her master of science in food science and human nutrition from the University of Delaware, and her PhD in Nutrition at the New York University, Steinhardt School of Education in the Department of Nutrition, Food Studies, and Public Health.

Rachael Majorowicz, RDN, CSR, LD, FNKF, is a renal dietitian for Mayo Clinic Dialysis Services and an Assistant Professor of Nutrition for the Mayo Clinic College of Medicine. She has over 15 years of experience providing patient care, creating educational materials, writing medical nutrition therapy guidelines, and presenting to dietitians, medical students, dietetic interns, nurses, and nephrology providers. She has served on the executive committee of the Renal Practice Group of the Academy of Nutrition & Dietetics for over 10 years and is currently leading the revision of the National Renal Diet. She is also a contributor to online medical information, peer-reviewed journals, and book chapters, including the current revision of the Clinical Guide to Nutrition Care in Kidney Disease.
Disclosures


Laura Byham-Gray, PhD, RDN, FNKF, has the following disclosure to report: she has received grant/research support from Keryx-National Kidney Foundation. Rachael Majorowicz, RDN, CSR, LD, FNKF, has no disclosures to report. Both speakers certify that no conflict of interest exists for this program. View our disclosure policy.