Subject: Space is Available for the Free Webinar on Weight Management on 4/1

View this email in a browser | Update your information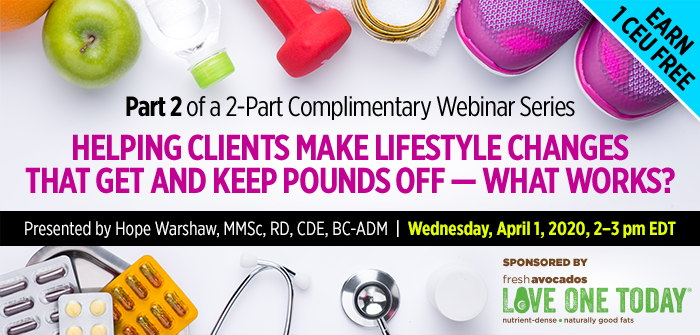 Weight management focuses significantly more attention on weight loss and not nearly enough on helping people who've lost weight keep lost pounds off. As dietitians we need to turn more of our attention to helping people minimize weight regain to maximize the health benefits.

In this webinar on Wednesday, April 1, 2020, from 2–3 PM EDT, Hope Warshaw, MMSc, RD, CDE, BC-ADM, will review evidence from recent and long-term studies that demonstrates the value of weight loss and long term maintenance. Hope will share the cadre of successful strategies for weight maintenance accumulated from research studies and other expertise. She will also share insights gleaned from a panel discussion at the Today's Dietitian 2019 Spring Symposium in with several healthcare providers and their clients who have successfully kept lost pounds off.



Learning Objectives



| | |
| --- | --- |
| 1. | Detail the clinical benefits of minimal weight loss and maintenance of lost weight on prevention and/or delay of chronic diseases. |
| 2. | Describe at least 5 key strategies from research studies for successful maintenance of lost weight. |
| 3. | Identify 3 ways clients can evolve their clinical practices to better support people in their long-term efforts to keep lost weight off. |
1 CEU FREE
Suggested CDR Learning Needs Codes: 3005, 4040, 5370, 6080
Performance Indicators: 8.1.1, 8.3.6, 9.1.3, 9.6.1
Level: 2
About Our Presenter


Hope Warshaw, MMSc, RD, CDE, BC-ADM, is a nationally-recognized diabetes care and education specialist. She applies 40 years of experience in her work as a book author and freelance writer, media spokesperson and consultant within her business, Hope Warshaw Associates, LLC. Hope is well-known for her expertise in diabetes care and nutrition management, weight management, and healthy eating. She offers practical solutions for wellness to individuals and to the millions she connects with through an array of communication channels, including social media platforms.

As a freelance writer, Hope has written several award-winning, best-selling consumer books and resources published by the American Diabetes Association (ADA) including, "Diabetes Meal Planning Made Easy" and "Eat Out Eat Well — The Guide to Eating Healthy in Any Restaurant" and others. Hope served as a contributing editor, freelance writer, and editorial advisory board member for Diabetic Living, Meredith Corporation's consumer diabetes magazine and website for nearly a decade. She initiated and wrote the Nutrition Q&A column for The Washington Post for several years and was instrumental in creating an avenue for more Registered Dietitian Nutritionists to write for The Post. She has authored and co-authored professional articles in numerous journals including Diabetes Care, Journal of the Academy of Nutrition and Dietetics, Endocrinology Today, American Journal of Managed Care — Evidence-based Diabetes Management, Journal of Science and Technology, The Diabetes Educator, AADE in Practice, and Today's Dietitian.

Hope is a sought after speaker who regularly presents at association annual meetings and nutrition and diabetes symposiums. She demonstrates her leadership abilities in volunteer positions for the Academy of Nutrition and Dietetics and dietetic practice groups, and American Association of Diabetes Educators (AADE). She served as president in 2016. In June 2018 she joined the Academy of Nutrition and Dietetics Foundation Board for a three year term. Hope currently works and resides in beautiful Asheville, North Carolina.
About Our Sponsor


Fresh Avocados — Love One Today® is a science-based food and wellness education program that encourages avocados in everyday healthy eating plans to help increase fruit and vegetable intake. Avocados are a delicious, heart-healthy, whole food source of naturally good fats and are a good source of fiber. Dietary fiber adds bulk to the diet and can help you feel fuller faster and help manage weight. loveonetoday.com/weightmanagement/



Disclosures


This complimentary 1-credit continuing education webinar is brought to you with support from Love One Today®. Please note that Love One Today® provided financial support only and did not have input into the information provided in this course.

Hope Warshaw, MMSc, RD, CDE, BC-ADM, has the following relevant disclosures to report: consultant to Lifescan Diabetes Institute, Heartland Food Products Group, Tate & Lyle, Montmed, Inc., Tandem Diabetes Care, Insulet, Welldoc, Inc., Senseonics, and Companion Medical. The speaker certifies no conflict of interest exists for this program. View our disclosure policy.