Subject: Register now for tomorrow's 2 pm webinar
View this email in a browser | Update your information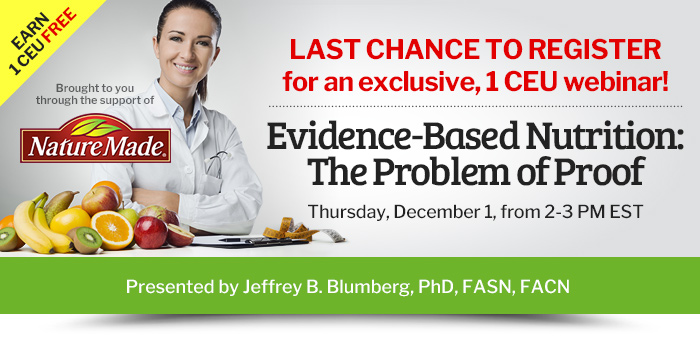 Don't miss out on tomorrow's webinar, "Evidence-Based Nutrition: The Problem of Proof"! Presented by Jeffrey B. Blumberg, PhD, FASN, FACN, professor at the Friedman School of Nutrition Science and Policy, this webinar will provide an overview of the common research strategies for evidence-based nutrition and will provide RDs with relevant and practical skills for interpreting data and evidence-based recommendations to patients and clients.



Learning Objectives


After completing this continuing education course, nutrition professionals should be able to:
Describe the hierarchy of research strategies for evidence-based nutrition.
Outline the strengths and limitations of each research strategy to establish the relationship between a nutrient, food or dietary pattern and a health outcome.
Discuss some key distinguishing characteristics between the nature of randomized clinical trials on nutrition versus drug interventions.
Understand the difference between confidence in and certainty of research results for their translation into action or policy.
CPEUs: 1
Suggested CDR Learning Needs Codes: 9020, 9050, 9060, 9070
Performance Indicators: 4.1.2, 6.2.1, 6.2.5, 6.3.11
Level: 2

Call 877-925-2355 or e-mail ce@gvpub.com if you have any questions regarding this webinar.

This webinar is a complimentary continuing education event thanks to the support of Nature Made.