Subject: Register for tomorrow's webinar on food photography
View this email in a browser | Update your email preferences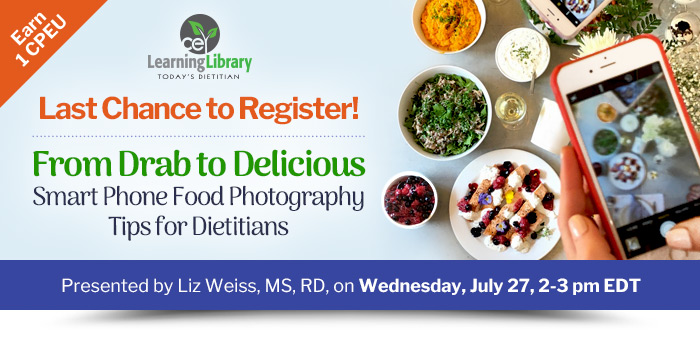 Designed for food and nutrition bloggers as well as dietitians who use print and online newsletters, Facebook, Twitter, Instagram, or Pinterest to educate consumers, this webinar provides instruction for taking delicious and nutritious smart phone food photographs and for sharing them via social media networks. The webinar emphasizes the importance of using natural light to capture beautiful food photos, basic composition guidelines, styling techniques and prop selection, and simple yet powerful post-production editing insight.

Over the years, our presenter has spoken to thousands of fellow dietitians about her journey in social media and best practices for blogging, and given workshops on smart phone food photography and recipe writing basics for RDs. Liz is a strong believer than consumers will eat healthy foods when they look good and taste great, and that's exactly what she aims to discuss with all of you during this webinar.



Learning Objectives



After completing this continuing education course, nutrition professionals should be able to:
Gain a better understanding of common mistakes made by beginner food photographers.
Understand the components of good food photography including composition and lighting.
Employ strategies for taking visually-appealing smart phone images.
Identify free and inexpensive apps that enhance smart phone cameras and allow for interesting post-production editing.
Price: $19.99
CPEUs: 1

Suggested CDR Learning Codes: 1090, 1100, 7120
Performance Indicators: 2.1.3, 2.1.4, 11.4.1
Level: 1
About Our Presenter



Registered dietitian nutritionist Liz Weiss is one of the nation's top experts on family nutrition. Liz writes the award-winning food and nutrition blog, Meal Makeover Moms' Kitchen, and she co-hosts the iTunes radio podcast, Cooking with the Moms. Liz is best known for her delicious and nutritious recipe makeovers as well as her tips for tackling picky eating. With her three cookbooks, The Smoothie Bowl Coloring Cookbook, No Whine with Dinner, and The Moms' Guide to Meal Makeovers, Liz has been a trusted resource on healthy foods for kids and families for over a decade. Liz hosts the "Meal Makeovers" cooking segment on CNN's AccentHealth channel, which runs in 30,000 doctor's offices nationwide, and she's a contributor to LoseIt, an app-based weight loss program available worldwide.



Disclosures



Liz Weiss, MS, RD reports the following relevant disclosures: she serves as a consultant to Nestle Balance Your Plate and California Avocado Commission. She has certified that no conflict of interest exists for this program. View our disclosure policy.