Subject: Our new publication for health professionals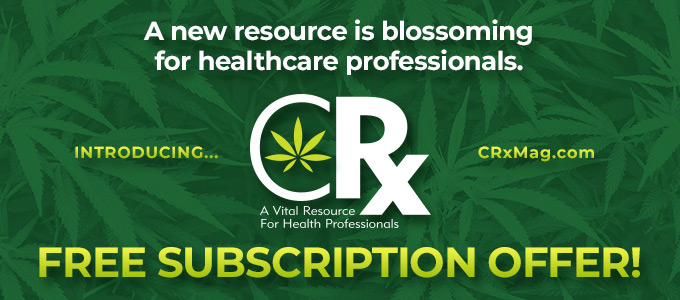 Subscribe

FREE

in time for our premiere issue in October!
ABOUT US
Published quarterly starting in October 2019, CRx's content speaks to health professionals on a scientific level, with articles written by experts in the field. We'll also publish exclusive online content on our website, www.CRxMag.com.

As the voice for MMJ professionals, CRx is positioned at the center of a community for information sharing. A source of essential information for like-minded health and medical professionals who include cannabinoid products as part of their treatment plans, CRx provides a platform for those working in the industry to educate and inform fellow professionals.

Our content will cover the important and timely medical, business, and research developments in the cannabis industry, with a perspective that connects with the MMJ professionals who are driving the industry forward with innovation, investment, and expertise.

ABOUT OUR AUDIENCE
Produced by the publisher of established and respected health care trade magazines such as Today's Dietitian, Social Work Today, and Today's Geriatric Medicine, CRx has a natural connection to health care professionals.

CRx offers content that appeals to MMJ professionals that include:


• Physicians
• Nurses
• Registered Dietitians
• Social Workers
• Therapists/Psychologists
• Addiction Counselors
• Behavioral Health Professionals
• Pharmacists
• PTs/OTs
• PAs/NPs
• Chiropractors
• Budtenders
• More!

ABOUT OUR NETWORK
Extending beyond our print publication, CRx is a media brand with numerous platforms through which our audience of professionals can receive relevant content. Our network includes our website, digital edition, and social media platforms on Facebook and Twitter.
Subscribe today for free and be part of the CRx community of sharing information about cannabis as medicine.