Subject: May 30 webinar with RD living with cystic fibrosis

View this email in a browser | Update your information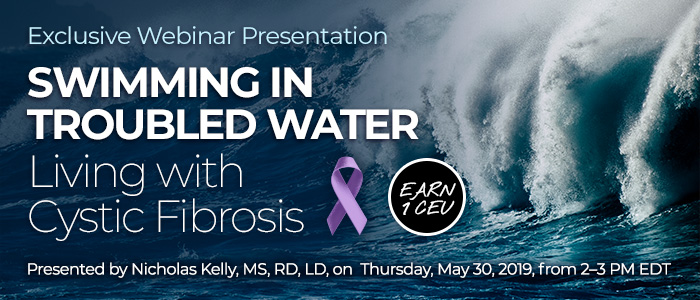 Cystic Fibrosis (CF) is a progressive, genetic disease that causes persistent lung infections and limits the ability to breathe over time. According to the CF Foundation, in people with CF, mutations in the cystic fibrosis transmembrane conductance regulator (CFTR) gene cause the CFTR protein to become dysfunctional. When the protein is not working correctly, it's unable to help move chloride — a component of salt — to the cell surface. Without the chloride to attract water to the cell surface, the mucus in various organs becomes thick and sticky.

In the lungs, the mucus clogs the airways and traps germs, like bacteria, leading to infections, inflammation, respiratory failure, and other complications. For this reason, minimizing contact with germs is a top concern for people with CF. In the pancreas, the buildup of mucus prevents the release of digestive enzymes that help the body absorb food and key nutrients, resulting in malnutrition and poor growth.

This webinar offers a unique perspective on living with cystic fibrosis, as presenter Nicholas Kelly is a dietitian who is living the CF patient experience first-hand. Nicholas will share his experience to help audience members understand the relationships between CF and BMI, chiropractic care, the pancreas, enzyme therapy, fluid intake, and overall nutrition. As a patient and a dietitian, Nicholas will also examine how RDs can plan nutritional interventions for patients living with CF.



Learning Objectives


After completing this continuing education course, nutrition professionals should be able to:


| | |
| --- | --- |
| 1. | Identify key characteristics of the Cystic Fibrosis (CF) patient experience. |
| 2. | Describe the relationships between CF and BMI, chiropractic care, overall nutrition, the pancreas, enzyme therapy, and fluid intake. |
| 3. | Implement a health plan that supports the purpose and passion of the CF patient. |
1 CEU
Price: $19.99

Suggested CDR Learning Needs Codes: 3020, 4040, 5330, 5420
Performance Indicators: 8.1.5, 8.2.1, 8.3.6, 8.4.1
Level: 1
About Our Presenters


Passionate, artistic, energetic, knowledgeable, and compassionate are a few words to describe Nicholas Kelly's approach to life. His story began at three-months old when his mother diagnosed him with Cystic Fibrosis. Growing up Nicholas strived for normalcy, valuing himself as a person, meant to stand out. Nicholas thrived despite his disease, obtaining bachelors and master's degrees from Bowling Green State University. He is now a successful dietitian. Additionally, he is a poet, artist, educator, and dancer. Nick's life has focused on using his abilities and knowledge to influence those around him, while exhibiting a positive representation in the educational, artistic, and CF communities.



Disclosures


Nicholas Kelly has no relevant disclosures to report. He has certified that no conflict of interest exists for this program. View our disclosure policy.