Subject: Materials for today's webinar on email marketing

View this email in a browser | Update your information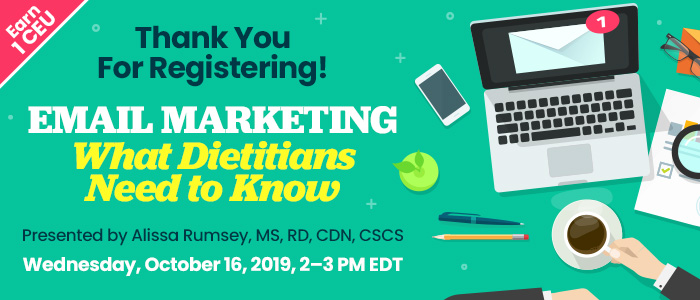 Email Marketing: What Dietitians Need to Know will be presented Wednesday, October 16, 2019, from 2–3 PM ET, by Alissa Rumsey, MS, RD, CDN, CSCS.

Download the associated webinar materials by following the links below.
The Pre-event Materials contain important instructions on how to log into the webinar.
PLEASE DOWNLOAD AND REVIEW THEM COMPLETELY PRIOR TO THE WEBINAR'S START TIME.



Or paste this URL into your web browser:
https://goto.webcasts.com/starthere.jsp?ei=1261922&tp_key=f3505c6778

If you are unable to attend, we will be posting a recorded version of the webinar as soon as possible on CE.TodaysDietitian.com to make all the great information presented and the continuing education credit available to all professionals.

Call 877-925-2355 or email ce@gvpub.com if you have questions or need assistance.