Subject: Materials for Today's Webinar on Gut Health

View this email in a browser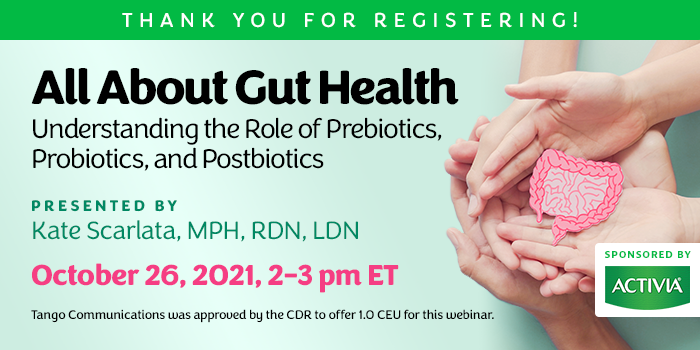 All About Gut Health: Understanding the Role of Prebiotics, Probiotics, and Postbiotics with Kate Scarlata, MPH, RDN, LDN, will take place on Tuesday, October 26, 2021, from 2–3 pm ET.

To join the webinar, go to https://goto.webcasts.com/starthere.jsp?ei=1503323

Please download the pre-event materials prior to the program start for further instructions as well as a copy of the presentation slideshow for note-taking purposes.

• Download the pre-event materials
• Download the presentation slideshow
• Download the presentation references


If you are unable to attend, we will be posting a free recorded version of the webinar as soon as possible on CE.TodaysDietitian.com to make all the great information presented and the continuing education credit available to all professionals.

Call 877-925-2355 or email ce@gvpub.com Monday through Friday from 9 am to 5 pm ET with any questions in regards to this webinar.
This 1-CEU webinar is supported by Activia and accredited through Tango Communications.