Subject: Jan. 24 webinar on telehealth in private practice

View this email in a browser | Update your email preferences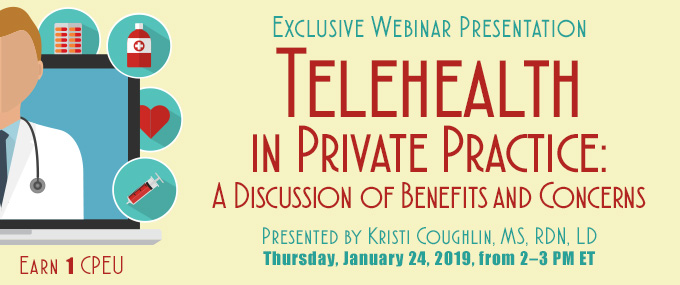 Telehealth is a blossoming area of the nutrition profession. Many dietitians desire greater understanding of the potential to improve patient care and health outcomes through the use of technology. In this webinar, attendees will gain a better understanding of what telehealth includes, such as the use of live chat and mobile health. More importantly, attendees will gain a better understanding of the benefits and concerns of telehealth while also reviewing current research findings.

Though many dietitians express an interest in implementing telehealth services in their practice, they are often amiss when it comes to the finer details. To assist in navigating the muddy waters of putting telehealth into practice, a review of current laws and regulations will be reviewed, including licensure, informed consent, liability insurance, coverage of services by insurance, and HIPAA compliance. Finally, a brief overview of available telehealth platforms to identify key features pertinent to private practice.

The future is here and it is in the form of telehealth.



Learning Objectives


After completing this continuing education course, nutrition professionals should be able to:
Describe telehealth in a private practice setting, including benefits, concerns, and current research.
Examine laws and regulations as they apply to telehealth.
Distinguish process required to implement telehealth services in a private practice setting while also identifying key features of available telehealth platforms.
Price: $19.99
1 CEU
Suggested CDR Learning Needs Codes: 1000, 1020, 7070
Performance Indicators: 5.1.1, 5.1.4, 5.3.1, 5.3.3
Level: 1
About Our Presenter


Kristi Coughlin, MS, RDN, LD, resides in Central Oregon. She established her online practice in early 2016 to reach clients throughout the State of Oregon. In her spare time, she enjoys helping fellow dietitians navigate the realm of telehealth in private practice.



Disclosures


Kristi Coughlin, MS, RDN, LD, reports the following relevant disclosure: she participates in the Healthie affiliate program. She has certified that no conflict of interest exists for this program.
View our disclosure policy.