Subject: Important Symposium Attendee Information
View this email in a browser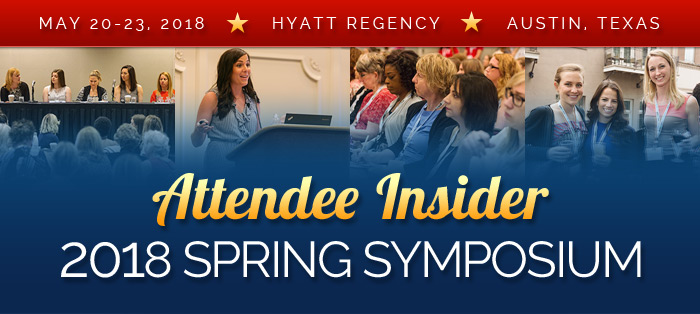 Dear Spring Symposium Attendee:


The 2018 Today's Dietitian Spring Symposium team is eagerly anticipating your arrival at the Hyatt Regency Austin! To make sure everyone's experience gets started on the right track, we've included some important information below to help you prepare.




Program Guide & Session Schedule


You will receive a copy of the Program Guide when you pick up your name badge, but you can download a sneak peek by clicking the link below. We've also provided a copy of the final session schedule for those who'd like to print a copy in advance.

• 2018 Spring Symposium Program Guide
• 2018 Spring Symposium Session Schedule




Session Handouts


If you would like a paper copy of any of our session presentations, you can download and print from our CE Learning Library website using attendee access code: TDSS18. We will not have printed handouts on-site!

Handouts are available at CE.TodaysDietitian.com/SS18Handouts or you can go to CE.TodaysDietitian.com, select the Symposium tab, and click on the 2018 Handouts dropdown.




Credit Claiming


Symposium certificates will not be awarded in person at the live event. You must complete a brief online evaluation for each session attended in order to obtain credit. Instructions for completing evaluations and downloading certificates are included in the 2018 Spring Symposium Program Guide and on our CE Learning Library at CE.TodaysDietitian.com/SS18CreditClaiming.




Social Media & Wifi


Please use our Symposium hashtag #TDinAustin for all of your event-related posts and tweets. Last year, our hashtag TDinNOLA trended #1 on Twitter in New Orleans for two days in a row and had over 8 million impressions. We want to top that this year, and together we can do it!

Also, please tag Today's Dietitian on all of your Facebook and Instagram posts over the course of the conference!

While in the meeting area, you can use our event Wifi access code:

Hyatt_Wifi

(lower case "f")






Important Times & Locations




Badge Pickup




Symposium Services Desk — Skywalk Lobby


Saturday: 3 PM – 7 PM
Sunday: 9 AM – 7 PM
Monday: 7 AM – 6 PM
Tuesday: 6:30 AM – 7:15 PM
Wednesday: 7 AM – 11:45 AM
Stop by the Symposium Services Desk in the Hyatt Regency Skywalk Lobby to pick up your badge and Program Guide. Today's Dietitian staff will be available to answer any questions. Tote bags will be available for pickup during Exhibit Hall hours on Monday.

Keynote Session




Sunday, 5:45 PM – 6:45 PM


Zilker Ballroom
Featured Speaker: Trace Sheehan, writer and producer of the feature film, Food Evolution.
Sponsored by a2 Milk
To give you the full context of the film and the Keynote subject matter, Trace has graciously provided Symposium attendees with a special, password-protected screening link to watch the movie before you come to Austin.

Link: https://vimeo.com/192580812
Password: FEPAPAYA10

Reception & Exhibit Hall Opening




Monday, 5:15 PM – 7:30 PM


Texas Ballroom
Join us for a reception to kick off the opening of our Exhibit Hall! Enjoy refreshments and network as you get your first opportunity to visit with our sponsors. Many of our sponsors have samples to try, taste, and bring home, so feel free to consume all of the food, knowledge, and connections available to you in our Exhibit Hall.

Tuesday Lunch & Exhibit Hall Hours




Tuesday, 12:45 PM – 2:45 PM


Texas Ballroom
Lunch sponsored by Panera Bread



Grand Prize Drawing: Tuesday, 2:40 PM


Grand Prize: FREE registration + a 3-night stay at our 2019 Spring Symposium at Talking Stick Resort in Scottsdale, AZ
All Giveaways and Grand Prize Drawing will be announced during Tuesday's Exhibit Hall hours.
You MUST be present to win the Grand Prize!
Enjoy your lunch and another opportunity to get up close and personal with our sponsors. Engage and interact with this diverse group of companies, whose representatives understand the role of dietitians and are here to discuss products and programs that can benefit you and your clients.



You can receive 1 CPEU by attending the Exhibit Hall on Tuesday, May 22.

One CPEU is equivalent to one contact hour (hour spent in the Exhibit Hall). Complete an online evaluation at CE.TodaysDietitian.com to receive credit.

Opening Workshop




Sunday, 2 PM – 5:30 PM | 3 CEUs


Zilker Ballroom I & II

Ditching DIET from DIETITIAN: Creating Our Future Focused on Well-Being, Not Weight
Presented by Rebecca Scritchfield, RDN
There is evidence that demonstrates weight-loss dieting can do more harm than good and isn't as helpful at improving mind and body health as a weight-inclusive approach. What does an antidiet dietitian do? What about MNT? What about clients who want to lose weight? How do you help people change? This workshop will address these questions and much more. Be prepared to learn and grow through self-reflection, small group sharing, visual demonstration, and more. Leave with ideas tailored to your personal interests in moving forward, no matter where you are now.

Closing Workshop




Wednesday, 9:15 AM – 12:45 PM | 3 CEUs


Zilker Ballroom III & IV

Culinary Boot Camp for Dietitians
Presented by Michele Dudash, RDN, Chef
In three parts, this workshop is geared toward the dietitian home cook (or noncook!) who wants to gain confidence and know-how in the kitchen. Michelle Dudash, an RDN and Cordon Bleu-certified chef, loves helping people discover how to make delicious 30-minute meals, and she is going to share her years of experience by demonstrating how you can prepare healthy, craveable meals in your kitchen.

Pints and Poses




Tuesday, 6:15 PM – 7:15 PM


Zilker Terrace
Led by Mandy Unanski Enright, MS, RDN, RYT
Flow from day to evening with a yoga class open to participants of all levels. Join Mandy Enright, MS, RDN, RYT, for a 1-hour session that will draw from a range of yoga traditions.

Following the session, participants can enjoy a complimentary local draft beer (or other cocktail of your choosing) and mingle with your fellow yogis.



About Meals


To review our meal plan for the Symposium, refer to page 32 in the Program Guide.




Travel Advice


We wanted to pass along this bit of "Insider" info from our experience coming to Austin while planning this event. When taking a cab from Austin-Bergstrom airport to hotel, the most economical route is via Riverside rather than the highway. In some cases, you can save as much as $10. Taking a cab from the airport via Riverside is $23 vs $35 via the highway.




Contact Us




PRE-EVENT
ON-SITE
Email: symposium@gvpub.com
Hours: Monday – Friday, 9 AM – 5 PM EDT
Visit Symposium Services in the Hyatt Regency Skywalk Lobby
Saturday: 3 PM – 7 PM
Sunday: 9 AM – 7 PM
Monday: 7 AM – 6 PM
Tuesday: 6 AM – 7:15 PM
Wednesday: 7 AM – 11:45 AM
Thanks to our sponsors for their support of continuing education in nutrition and dietetics.