Subject: Get Clinical at Today's Dietitian Spring Symposium
VIEW IN BROWSER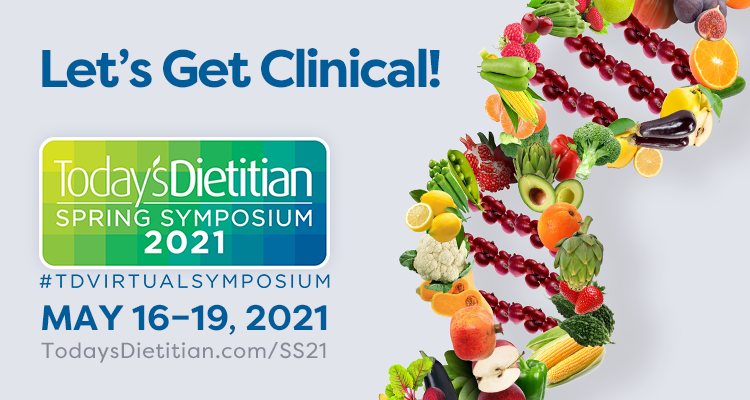 Less than 3 weeks left to register and get clinical at the 2021 Today's Dietitian Spring Symposium, May 16–19.

Join nutrition experts:


Cyndi Thomson, PhD, RD


Diet and Colorectal Cancer:
Addressing Nutrition Therapy in Early-Onset Survivors
Colorectal cancer (CRC) remains a leading cause of cancer and cancer mortality in the US and has been increasingly diagnosed in younger adults (prior to age 50). Dr. Thomson will characterize this unique group of survivors and examine common symptoms that impact healthy eating, as well as provide insight into new research strategies to improve diet and related dietary outcomes after a diagnosis of early-onset colorectal cancer (EOCRC).

Susan Weiner, MS, RDN, CDN, CDES, FADCES


Telehealth and Diabetes Education: A Guide to Understanding and Incorporating the New Guidelines into Your Practice
During this session Susan Weiner will break down and discuss the latest updates and additions to the diabetes clinical guidelines in order to help RDs promote positive health outcomes and lower complication risk.

Naim Alkhouri, MD


Nutrition and Recommendations for Non-Alcoholic Fatty Liver Disease (NAFLD)
Nonalcoholic fatty liver disease (NAFLD) is a global health concern with a suspected increasing prevalence due to the rise in obesity and diabetes mellitus. Dr. Alkhouri will discuss how dietitians, as critical members of the care team and who play an important role in the successful management of NAFLD, can positively impact patient outcomes.

Sharon Collison, MS, RDN, LDN, CSSD


Sarcopenia: Nutrition and Exercise Strategies for Prevention and Treatment
In this session Sharon Collison will define the current population suffering from sarcopenia, share the metrics by age-based muscle reduction, the disease's effect on health care costs, and share evidence-based guidelines for prevention and treatment.

Nancy Clark, MS, RD, CSSD


Sports Nutrition: Considerations for Counseling Today's Athletes
Today's athletes are faced with a plethora of nutrition information and misinformation. This session will focus on the current food and fueling trends of sports-active people—and offer counseling tips to counter misguided fueling practices.
THANKS TO OUR 2021 SPONSORS FOR THEIR SUPPORT OF CONTINUING EDUCATION IN NUTRITION AND DIETETICS.