Subject: Free Webinar: The Impact of Microbiome and Immunity on Child Development
VIEW IN BROWSER
Thank you for your continued support of Today's Dietitian. Below is information from one of our sponsors.

This activity is hosted and accredited by New England Dairy and is not a product of Today's Dietitian.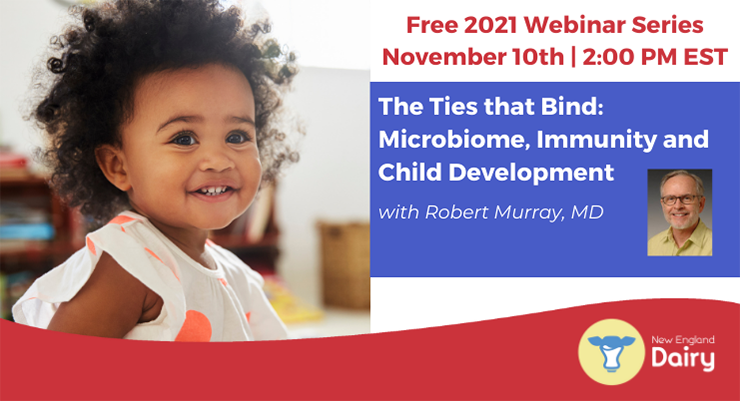 The Ties that Bind: Microbiome, Immunity and Child Development

With Pediatrician Robert Murray, MD, Director, Murray MD Nutrition LLC


November 10, 2021, 2:00–3:00 pm ET
Young children are uniquely susceptible to dietary inadequacy which can jeopardize proper brain development and physical growth. The tightly connected intestinal microbiome, gut epithelium, and submucosal immune system are dependent on specific nutrients to maintain their function and homeostatic balance. Threats to this balance, especially during times of rapid child growth, can lead to long term repercussions. Pediatrician Robert Murray, MD will guide practitioners through this critical homeostatic balance; how to identify clinical risk; and dietary interventions to heal intestinal injury, lower inflammation, reestablish protective microbial populations, and strengthen normal immune balance to restore full growth potential.
Register here for this free webinar
Learning Objectives
| | |
| --- | --- |
| 1. | Describe the critical connection between the intestinal microbiome, the gut epithelial layer, and immune function. |
| 2. | Outline the clinical red flags that threaten homeostatic balance, especially during times of rapid child growth, and the steps that lead to growth faltering. |
| 3. | List the tools that a clinician can use to identify risk early in the course, and the nutritional interventions that will establish homeostasis. |




Pending approval for 1.0 hour of CPE from the Commission on Dietetic Registration.

This activity is hosted and accredited by New England Dairy and registration will take place on its website.






About New England Dairy


New England Dairy is a non-profit education organization staffed by registered dietitians and other professionals that serves as the voice of New England dairy farmers. Our mission is to champion the region's farm families and the nutritious foods they produce by connecting people to dairy farms, supporting youth wellness in schools and delivering the latest nutrition and sustainability science to health professionals, scientists, media, nutrition professionals and educators. Learn more at NewEnglandDairy.com.



About The Presenter


Dr. Robert Murray spent over 20 years in the field of Pediatric Gastroenterology and Nutrition in the Ohio State University School of Medicine. For 5 years, he served as the director of the Center for Healthy Weight and Nutrition, offering medical and surgical treatments for child and adolescent obesity. Dr. Murray also was the pediatric medical director for Abbott Nutrition from 2003-2006. For over a decade Dr. Murray was an executive committee member of the American Academy of Pediatrics' Council on School Health, serving as chair in the final 4 years. He is a Board member of Action for Healthy Kids as well as of the Children's Hunger Alliance, and previously served on the Board of the Academy of Nutrition and Dietetics Foundation. Dr. Murray is a past President of the Ohio Chapter of the American Academy of Pediatrics.



Disclosures


Robert Murray is a speaker and advisor to National Dairy Council, a speaker and consultant for Abbott Nutrition, has served as a speaker for the National Cattleman's Beef Association, a speaker and writer for Danone, and a speaker for the School Nutrition Association.