Subject: Free CE Webinar – RDNs on navigating nutrition in a pandemic world

View this email in a browser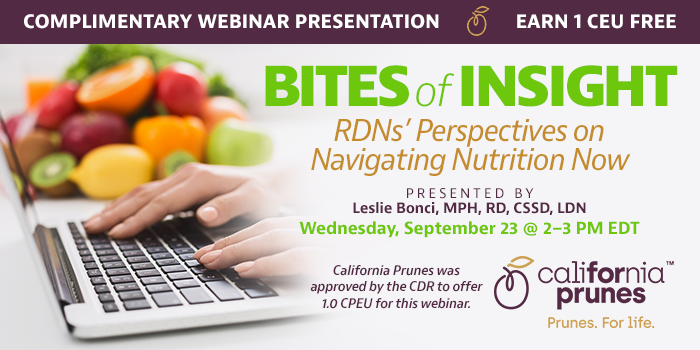 As we continue to grapple with the effects of COVID-19, how have RDNs responded, reframed, and repositioned to stay employed, connected, and relevant?

A survey of 1,076 practitioners in various work settings conducted from May to June 2020 sheds light on the impact of the pandemic on the field of dietetics. Respondents' perceptions on consumers and clients' areas of concern and desired information has opened the door for innovative and creative ways to educate, communicate, and motivate. As health care professionals we must follow the science, combat disinformation, and resonate with relevance.

Join Leslie Bonci, MPH, RD, CSSD, LDN, on Wednesday, September 23, 2020, from 2–3 PM EDT, for a webinar that will teach you how to survive and thrive as a dietitian in a pandemic world.



Learning Objectives



| | |
| --- | --- |
| 1. | Strategize about methods and use different platforms to deliver patient care and foster public communication. |
| 2. | Employ best practices to remain viable and evidence-based in a pandemic world. |
| 3. | Leverage the field of nutrition and dietetics to provide health-promoting recommendations to clients and consumers. |
1 CEU FREE
Performance indicators: 2.1.4, 4.2.7, 9.6.6
CDR Activity Type: 171
CPE level: 2
About Our Presenter


Leslie J. Bonci, MPH, RD, CSSD, LDN, is the owner of Active Eating Advice — be fit, fed, fearless — a nutrition consulting company. She is also the co-founder of Performance365 — a sports nutrition consulting company. Her clients include National Dairy Council, California Prune Board, Douglas Lab, General Mills, Potatoes USA, The National Peanut Board, Produce for Better Health, Sodexo, The Mushroom Council, and the Wonderful Brands. Leslie is a member of the L.E.A.D network for Bayer, formerly Monsanto.

Leslie is currently the sports nutrition consultant for the Kansas City Chiefs and the Pittsburgh Ballet Theatre. Her company, Performance365, will provide sports nutrition services for the XFL the new football league starting in 2020. She was the sports dietitian for the Pittsburgh Pirates, Pittsburgh Steelers, Toronto Blue Jays, and has also worked with the Pittsburgh Penguins, University of Pittsburgh Department of Athletics, and the Washington Nationals.

She is the author of "Sport Nutrition for Coaches," the American Dietetic Association's "Guide to Better Digestion," and co-author of "Run Your Butt Off, Walk Your Butt Off," "The Active Calorie Diet" and "Bike Your Butt Off." Leslie has authored numerous chapters for sports medicine and sports nutrition manuals, and she's also a blogger for US News and World Report Eat + Run. She has a monthly television segment, "The Winning Plate" on KDKA-TV, Pittsburgh "Today Live" show, as well as guest spots on Sirius Dr Radio and KDKA radio in Pittsburgh.

Leslie is an adjunct instructor in the School of Dental Medicine at the University of Pittsburgh and lectures extensively at universities and corporations.
About The Sponsor


California Prune growers have invested more than 150 years in perfecting the growing and harvesting techniques required to deliver the ultimate premium crop recognized for its legendary flavor and quality. California Prunes are packed with vitamins and minerals, including copper, vitamin K, and magnesium, that may support healthy bones. They also contain fiber that helps maintain a healthy gut microbiome. Visit CaliforniaPrunes.org/WellnessHub to learn more!



Disclosures


Disclosure: Leslie is a paid nutrition spokesperson for the California Prune Board. Other clients include the National Dairy Council, the Wonderful Brand, Douglas Labs, and Bayer.