Subject: Free 1 CEU Webinar: Managing Sleep, Stress, and Mood

View this email in a browser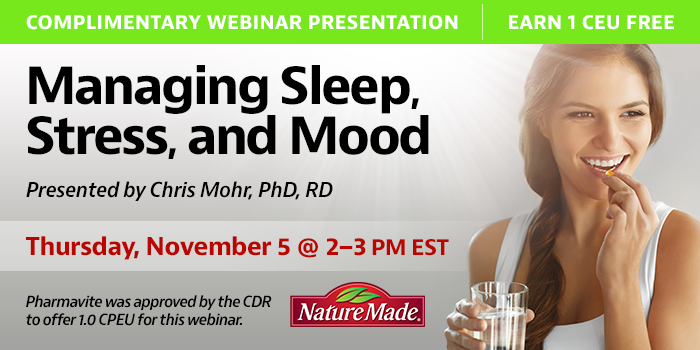 Our health is impacted by a number of factors in our daily lives, from what we put in our bodies to how much stress we have and our quality of sleep. Self-care is more important now than ever before to help maintain a strong immune system and optimize health.

Join Chris Mohr, PhD, RD, on Thursday, November 5, 2020, from 2–3 PM EST, to learn about the essential nutrients that we need in our daily lives, and how nutrient gaps are driving a health care crisis across the country. Chris will explore the latest scientific research on sleep, stress and immunity, as well as supplement strategies and dosing for your patients in order to help them strive for mental and physical wellness.



Learning Objectives



| | |
| --- | --- |
| 1. | Describe how essential nutrients are needed in our daily lives and how their respective nutrient gaps are driving a health care crisis across the country. |
| 2. | Explore the latest scientific research on sleep, stress, and mood. |
| 3. | Identify key supplementation strategies and dosing for your patients to help them strive for mental and physical wellness. |
1 CEU FREE
Suggested CDR Performance Indicators: 8.1.2, 8.2.1, 9.2.1, 9.3.1
CPE Level: 2
About Our Presenter


Chris Mohr, PhD, RD, is an international presenter on the topic of well-being and nutrition. He is on the Men's Health Advisory Board, previously worked as the Sports Nutrition Consultant for the Cincinnati Bengals, worked with select WWE athletes, and his expertise has allowed him the opportunity to speak at the White House, the CIA, and several of the largest Fortune 500 companies in over 10 countries and most of the 50 United States.
About Our Sponsor


For nearly 50 years, Nature Made has been a pioneer in the industry and has become the #1 pharmacist-recommended vitamin and supplement brand by offering high-quality, safe, science-backed products to the masses. Visit naturemade.com.



Disclosures


Chris Mohr, PhD, RD, has the following relevant disclosure to report: he has received honorarium from Pharmavite for presentations on this topic. He certifies that no conflict of interest exists for this program. View our disclosure policy.