Subject: Final Reminders – Please Read: Important Information Regarding your Today's Dietitian Symposium National Dairy Council Farm and Yogurt Plant Tours next Wednesday, May 22
View email in a browser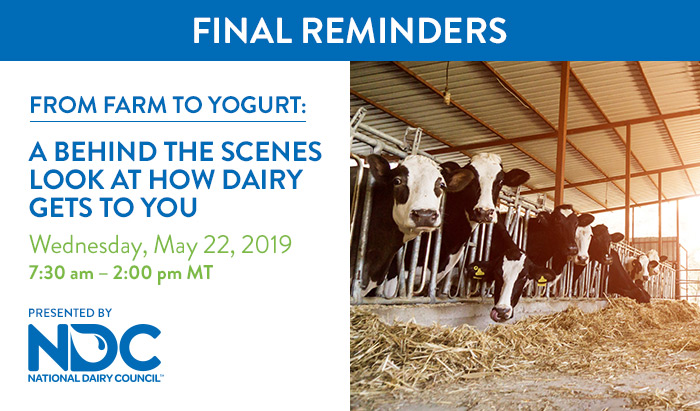 National Dairy Council is looking forward to meeting you in Arizona next week! This email contains important reminders for your confirmed attendance at "From Farm to Yogurt: A Behind the Scenes Look at How Dairy Gets to You" event on Wednesday, May 22.
Please plan to meet the tour bus on outside the hotel lobby area on the east side of the "Port Cochere" (the covered hotel entrance) by 7:15 am. The bus will depart promptly at 7:30 am.

Our return to the Talking Stick Resort is somewhat dependent on traffic. The goal is to have everyone back no later than 2 pm MT. If you need to be at the airport earlier than 4 pm, it is recommended that you not join us as we don't want you to miss your flight! Please send Allison Koch from National Dairy Council an email if your travel arrangements present an issue and you can no longer attend.

As we noted in our previous email communication, please consider the following as you prepare for your trip to Arizona and specifically for the farm and yogurt plant tours:

Please complete this Pre-Tour Survey.


You will be touring a working dairy farm and a food processing plant; therefore, good manufacturing processes are required.

On the farm:
Closed toe shoes are required
Suggest wearing comfortable, breathable clothing
At the yogurt plant:
Wear long pants
Bring a change of shoes — you don't want to bring the 'farm environment' into the yogurt plant
Closed toe shoes are required
The floor of the plant can be wet and slippery, so sneakers or otherwise durable walking shoes are recommended
You will be required to remove all jewelry prior to entering the plant — we will provide jewelry bags that you can put your jewelry in and then store in your pocket or you can leave them on the bus as our driver will stay with the bus during our tour
No fake nails/polish
No cell phones or photography are allowed in the plant
No flip flops or shorts are allowed in the plant

Please note — the temperature will likely be in the upper 80s or 90s while on the farm. Time outside under direct sunlight will be kept at minimum and the bus will be kept at a comfortable temperature throughout the tour. Water will also be provided to ensure everyone stays hydrated.



Should I bring my own snacks/water?


Light snacks and water will be available on the bus. Any dietary restrictions will be accommodated based on what you noted when you registered. Lunch will also be provided following the yogurt plant tour, around 12:15 – 12:30 pm. Please plan to have breakfast before you arrive.



Will transportation be provided?


Yes! A large, air-conditioned bus will take you from Talking Stick Resort to T & K Red River Dairy, Ehrmann's Greek Yogurt Plant and lunch. Much of the tour will take place on the bus so attendees will not be able to drive themselves. The tour bus will load, depart and discharge passengers from outside the hotel lobby area on the east side of the port cochere (the covered hotel entrance).



My plans have changed ... who do I let know?


Please let Allison Koch know ASAP if you can no longer attend.


Reach out to Allison Koch at National Dairy Council. You can also visit the National Dairy Council booth in the exhibit hall on Monday, May 20, between 5:15 – 7:15 pm or on Tuesday, May 21, between 12:45 – 2:45 pm.