Subject: Few seats remain for 2-CEU Symposium Workshop
View email in a browser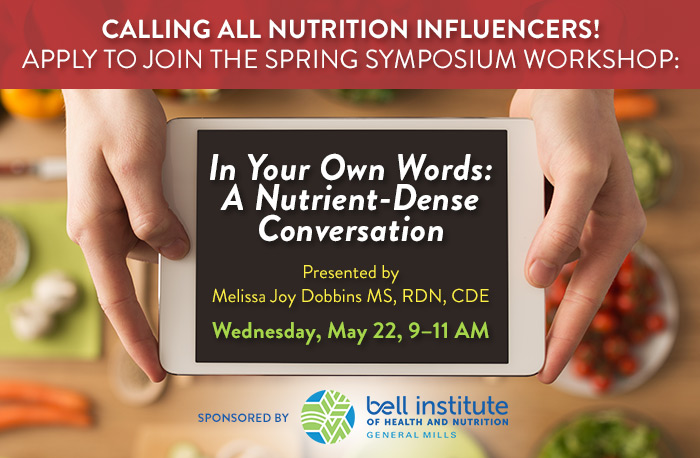 Apply to join a limited-space workshop on Wednesday, May 22, from 9–11 AM. Check out the description below and, if attending this 2-hour, 2-CEU workshop interests you, please fill out the application. Those who are selected will be informed well ahead of the Symposium for planning your day on Wednesday.

This session is accredited for 2 CEUs through General Mills.



Session Description


Single-nutrient 'villains' and 'heroes' may be a popular trend in the media, on social media and even by some health professionals, but this approach does not consider the entire nutrient offering of a given food. 'Clean' labels, cutting out sugar or avoiding 'processed' foods might seem like the magical answer to a healthy diet, but the truth is that taking a more nutrient dense approach can help people make more informed food choices and build healthier dietary patterns.

This 2-hour interactive workshop will highlight the benefits of a nutrient-dense approach for a more productive and meaningful nutrition conversation. Whether you work with individual clients, traditional media outlets or social media platforms, engaging your audience to shift their focus away from single nutrients and toward a more comprehensive approach can help empower them to build a healthier dietary pattern.

Participants will learn and practice strategies to translate the nutrient density science into their own words and walk away with content/messages that can be utilized in a variety of ways including traditional media, social media, presentations, blogs, videos and more. Even seasoned communicators can benefit from the opportunity to practice incorporating stories and compelling language into their messaging/content.



Learning Objectives


After attending this session, participants will be able to:
Discuss the concept of nutrient density, and recognize how shifting to nutrient-dense foods helps meet Dietary Guidelines recommendations.
Practice translating the science of nutrient density into your own words to utilize in nutrition communications outreach efforts.
Apply specific techniques to create more concise, compelling, meaningful, and memorable nutrition messages and content.
2 CEUs
Learning Needs Codes: 1130, 1140, 2000, 4000
Performance Indicators: 8.1.3, 8.3.6, 8.4.5
About Our Presenter


Melissa Joy Dobbins MS, RDN, CDE, has extensive experience as an influencer and spokesperson for the food, grocery and healthcare industries. She specializes in training other dietitians on communication skills so they can gain more visibility, influence and success. Her trainings have a particular emphasis on effective ways to engage and empower audiences to make their own, well-informed decisions and to enjoy their food with health in mind. Melissa received the 2016 Academy of Nutrition and Dietetics' Media Excellence Award and is known as The Guilt-Free RD® — "because food shouldn't make you feel bad!"



About Our Sponsor


The global Bell Institute of Health and Nutrition is comprised of passionate doctorate and master-level scientists and registered dietitians with varied backgrounds — ranging from nutrition science to public health to food science to microbiology and more! At the Bell Institute of Health and Nutrition, our mission is to be the source of health, wellness and nutrition expertise that creates value and growth for General Mills. We believe food should make us better, so we work hard to make food people love, while improving the nutrition of our products. www.bellinstitute.com