Subject: Feed Your Craving For Excellence with Nova Southeastern
View this email in a browser
Thank you for your continued support of Today's Dietitian. Below is information from one of our sponsors: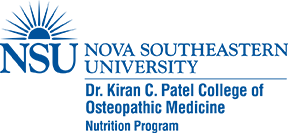 Master of Science in Nutrition
New Year, New You.
It's 2018. Feed your craving for excellence.


Nova Southeastern University's Master of Science in Nutrition offers the perfect opportunity to advance your career and distinguish your practice. The online 42 credit-hour program was designed to give you flexibility and exceptional results for your new year's goals.
Engage a unique core of courses in nutrition.
Customize your program and pace it your way.
Choose options in sports, community or functional nutrition and herbal therapy.
Challenge yourself in emerging topics with elective courses.
Broaden your horizons in a collaborative, interprofessional environment.
© 2018 Nova Southeastern University | Contact Us | Using Our Site | Privacy Policy
3301 College Avenue, Fort Lauderdale, Florida 33314-7796 | 800-541-6682