Subject: FREE 1 CEU webinar explaining the science behind Pure Maple Syrup – Register Now

View this email in a browser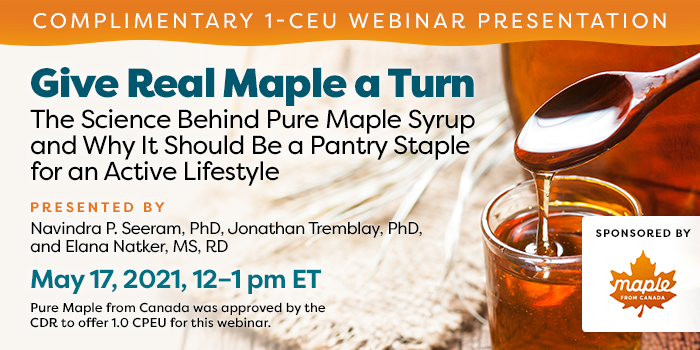 Sappy. Sweet. A natural source of energy paired with plant nutrients. We're talking about 100% Pure Maple Syrup from Canada.

Now more than ever there are so many choices for sweeteners. Pure maple syrup from Canada is a sweetener that, when consumed in moderation, can be part of a healthy diet. It is naturally sourced, derived directly from the maple tree's sap. When tapped, the sap brings with it vitamins and minerals directly from the tree, plus 67 bioactive compounds including Quebecol, which is unique to maple syrup and found nowhere else in nature.

On Monday, May 17, 2021, from 12–1 pm ET, join researchers Navindra Seeram, PhD, and Jonathan Tremblay, PhD, as they break down the science of these compounds and their potential anti-inflammatory, antioxidant, and immunity boosting properties. They will also explore emerging research on pure maple syrup and maple products, as a viable source of energy during prolonged exercise in human subjects. Dietitian Elana Natker, MS, RD, will then provide culinary inspiration for ways to incorporate maple syrup into menus and eating plans for everyone, in alignment with current dietary guidelines.



Learning Objectives


After completing this activity, nutrition professionals will be better able to:
1.
Identify pure maple syrup's nutrition profile, including 67 plant polyphenols, one of which (Quebecol) is unique to maple syrup and is found nowhere else in nature.
2.
Understand current health research related to pure maple syrup and its bioactive compounds including:
• Anti-inflammatory properties
• Antioxidant properties
• Immunity properties
3.
Describe emerging research on pure maple syrup and maple products, as a viable source of energy during prolonged exercise in human subjects.
4.
Apply the latest trends and culinary applications for maple syrup into menus and eating plans in alignment with current dietary recommendations and guidelines.
1 CEU FREE
Suggested CDR Performance Indicators: 2.1.8, 6.2.3, 8.3.6
CPE Level: 2
About Our Presenters


Navindra P. Seeram, PhD, is a Professor and Chair of the Department of Biomedical and Pharmaceutical Sciences, College of Pharmacy, University of Rhode Island. Prior to this, he was the Assistant Director of the UCLA Center for Human Nutrition in the Department of Medicine, University of California at Los Angeles (UCLA), and an Adjunct Assistant Professor in the UCLA David Geffen School of Medicine. His research group, the Bioactive Botanical Research Laboratory, investigates medicinal plants and their derived natural products for preventive and therapeutic effects against chronic human diseases.

Dr. Seeram has co-authored over 190 original peer-reviewed research articles, 10 review-type articles, 17 book chapters, and 7 international patents. He has co-edited 3 books and is the founding editor of the Clinical Pharmacognosy book series published by CRC Press/Taylor and Francis. He serves on the advisory board of the American Botanical Council and on the editorial advisory boards of the Journal of Agricultural and Food Chemistry, ACS Food Science and Technology, and the Journal of Berry Research. He was the recipient of the 2019 Distinguished Service Award and 2009 Young Scientist Award from the Division of Agricultural and Food Chemistry of the American Chemical Society and the 2017 Chair of that Division.

He is among the most highly cited scientists in Agricultural Sciences by Thomson Reuters from 2014–2019 (based on Web of Science indexed citations) and is regularly quoted in the media and popular press about medicinal plant foods. Dr. Seeram did his doctoral and postdoctoral studies at the University of the West Indies (in Jamaica) and at Michigan State University (MI, USA), respectively.

Jonathan Tremblay, PhD, is an associate professor within the School of Kinesiology and Exercise Science at the University of Montreal. His research spans the fields of integrative exercise physiology, bioenergetics and nutrition, and human performance. He has expertise in fuel selection during exercise, measured by indirect respiratory calorimetry corrected for protein oxidation, along with tracer methodologies using stable isotopes.

From 2010 to 2014, he also served as the Director of Sport Science for the Institut National du Sport du Québec, where he built a sport science team, along with labs and training facilities, in a multisport environment. More recently, he joined IVADO, a group of Montreal data scientists using machine learning and artificial intelligence to tackle various complex issues in health and sport.
About Our Sponsor


The QMSP was founded in 1966 with the mission of defending and promoting the economic, social and moral interests of some 7,300 maple businesses across Quebec. These men and women work together to establish quality standards as well as collectively market and promote their products. Quebec produces 90% of Canada's maple syrup and nearly 72% of maple syrup production worldwide. Together, the provinces of Ontario, New Brunswick and Nova Scotia contribute 10% to Canada's production. www.puremaplefromcanada.com



Disclosures


Navindra Seeram, PhD, serves on the scientific advisory boards for the Quebec Maple Syrup Producers (QMSP), Alluvion Brands LLC., and Amazentis SA, and on the editorial board of Herbalife Nutrition Institute. Relevant to this program, he is the Principal Investigator for several research grants to investigate the chemical constituents and biological effects of maple products received from both the United States Department of Agriculture (USDA) National Institute of Food and Agriculture and QMSP to the University of Rhode Island as well as from the USDA Agricultural Marketing Service Acer Access and Development Program for the market promotion of maple syrup and sap/water products. He certifies that no conflict of interest exists for this program.

Jonathan Tremblay, PhD, has the following relevant disclosures to report: he has received research and consultation funding from the Quebec Maple Syrup Producers and Agriculture Canada. He is a consultant for the Montreal Canadiens, the Canadian Tennis Association, Ski Quebec Alpin, and the Quebec Cycling Federation. He certifies that no conflict of interest exists for this program.

View our disclosure policy.