Subject: Do you love Silk? Join our network
VIEW IN BROWSER
Thank you for your continued support of Today's Dietitian. Below is information from one of our sponsors: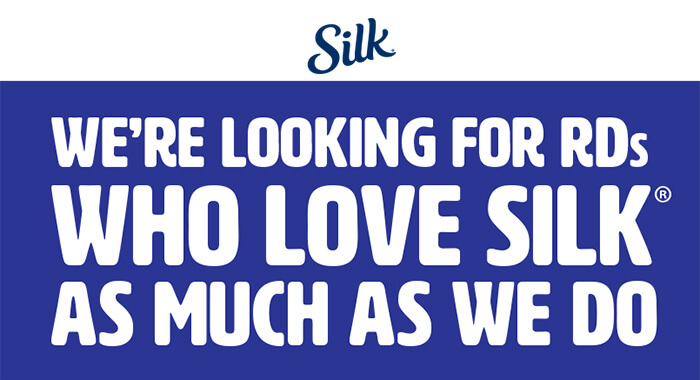 At Silk®, we believe in making delicious plant-based food that helps nourish people & the planet! We're here for everyone, from vegans to burger lovers, because our purpose is progress. And part of that progress is partnering with informed and enthusiastic RDs like you.

We're looking for passionate RDs to join our network and learn about the nutrition and versatility of our products. While everything we make is plant-based, we're not about forcing extremes on anybody. Trying to get people to eat better is our goal. That's why we want to work with like-minded RDs to bring everyone more nutritious plant-based options that taste amazing.

When you partner with us as a Silk® RD, we'll share educational resources, branded apparel and recipes that you can share with your friends, family and clients, plus much more!
Free product coupons to sample our products

Silk® product information to share with your clients
Early access to Silk® Health and Wellness Initiatives, plus invitations to exclusive Silk® events
Simply CLICK HERE if you are interested in becoming a Silk® RD, where our passion for great-tasting products and the planet is stronger than ever. If you have any questions on this program, please CONTACT US HERE.

Thanks for your consideration!

Team Silk®