Subject: Did You Miss the Dairy Farm-to-Table Event at Today's Dietitian's Symposium? We've Got You Covered.
View in browser
Thank you for your continued support of Today's Dietitian. Below is information from one of our sponsors: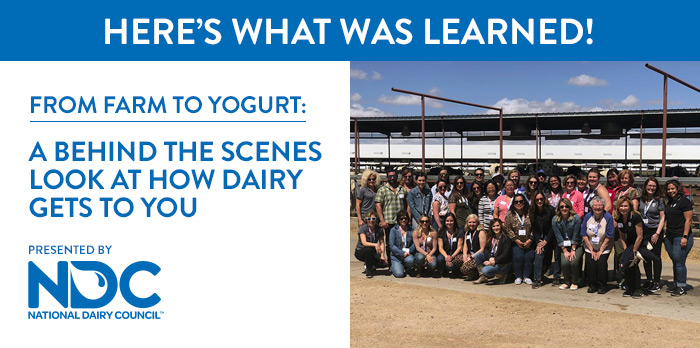 In honor of June being National Dairy Month, we wanted to share some fast facts that resonated with registered dietitians who joined National Dairy Council's (NDC), "From Farm to Yogurt: A Behind the Scenes Look at How Dairy Gets to You" event during Today's Dietitian Symposium in Scottsdale, AZ.
Cow Care is a Top Priority for Farmers


Ensuring cows are well cared for and making sure milk is safe are core to what dairy farmers do. In Arizona, the temps can frequently jump over 100 degrees. To keep cows cool and comfortable, farms are equipped with large fans, misters and plenty of shade which can mean as much as a 30-degree difference.

Regular veterinarian check-ups ensure a healthy herd. Just like us, cows sometimes get sick and occasionally need antibiotics to restore their health. If a cow is being treated under the supervision of a veterinarian with antibiotics, she is moved to a separate location from the herd where she can be closely monitored, and her milk is disposed of. Strict systems are in place, including rigorous testing both on the farm and at the processing plant, to ensure that milk in our food supply is antibiotic-free. Learn more with this virtual field trip and video on the commitment to ensure milk is free of antibiotics.



Farmers are the Original Stewards of the Environment


Every day dairy farmers strive to leave the planet in better condition for the next generation. Because of this commitment and ongoing innovation, dairy contributes 2% of the greenhouse gas emissions in the U.S. Check out the 2018 Dairy Sustainability Report to learn more.



Water: More Than Just a Refreshing Drink for Dairy Cows


Water is a precious and versatile resource on dairy farms. Keeping cows hydrated keeps them healthy and helps them produce nutrient-rich milk — which consists of about 90 percent water, similar to many foods we eat. Because dairy farmers are vigilant stewards of the land, they are always looking for opportunities to safely reuse, recycle and conserve water. In fact, today's water management practices allow dairy farmers to use 65 percent less water than they needed 60 years ago to produce the same amount of milk.



Cows Have Nutritionists Too


Rosemarie Burgos-Zimbelman, PhD, a dairy farmer and head nutritionist for Dairy Nutrition Services, co-hosted the NDC event. She shared with attendees that her role is to make sure their cows get the nutrients they need. Usually that includes eating a combination of grass, grain and a mixture of other ingredients like citrus pulp, almond hulls and cottonseeds — items that may otherwise be thrown away but are perfectly nutritious for cows due to their unique four-chambered stomach that allows them to eat more fibrous portions of foods compared to people. So, cows are really the ultimate upcyclers: They can take fibrous foods that we can't eat and turn them into nutritious milk!



Dairy Farmers Turn Waste into Renewable Energy


Did you know cow manure can be turned into useful energy? This happens in a digester, or a closed system where there is no oxygen. There, micro-organisms break down the organic materials like cow manure or food waste through a process called anaerobic digestion, which creates biogas that can be used for electricity and heat, or be processed further into compressed natural gas and even vehicle fuel. Digesters can also create other materials, or coproducts, like fertilizers, compost or even comfortable cow bedding from what the micro-organisms don't digest.

When organic matter is biodegraded by bacteria in an oxygen-free environment, such as in a landfill, the greenhouse gas methane is generated. However, under controlled conditions, such as digesters, the methane can be captured and used to produce heat or power electric generators.


From the farm to the dairy processing plant and then to the store, milk is strictly monitored to ensure the highest level of freshness, purity and great taste. As a result of these stringent food safety standards, milk is among the safest foods in the world.



Milk Delivers a Unique Nutrient Package that is Tough to Match


Milk's nine essential nutrients can be difficult to replace. Did you know it takes 17 cups of raw kale to get the same amount of calcium in 3 cups of milk? But it's not just about the calcium. See how protein, vitamin D and B vitamins stack up.

Encourage people to read the nutrition facts label on milk and milk alternatives to better understand what is in their pour. These flash cards provide an at-a-glance look at the nutrition and ingredient profiles of milk and a variety of milk alternatives.
In summary, event attendees who completed a post-event survey stated that they were "impressed by the conditions on the farm... and the care and concern of the farm staff," they enjoyed "hearing from the farmers directly and seeing the treatment and environment of the cows firsthand," and that they had "increased confidence in how I share the safety of milk and dairy products we eat as well as methods for sustainable farming."

Would you like to join a future National Dairy Council event? Or are you looking for more information on how dairy nourishes people while responsibly caring for our planet and animals? Join the Dairy Nourishes Network. Members of the network receive the latest dairy research, resources and recipes, as well as opportunities for free continuing education.

Visit NationalDairyCouncil.org to join today!