Subject: Credit claiming for today's webinar on intestinal microbiota

View this email in a browser | Update your information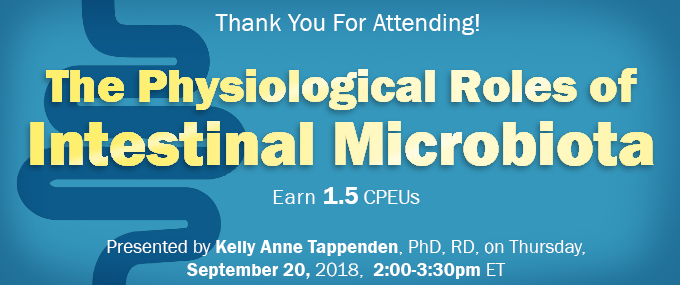 Thank you for attending our webinar "The Physiological Roles of Intestinal Microbiota" presented by Kelly Anne Tappenden, PhD, RD, on Thursday, September 20, 2018, from 2–3:30 PM EDT.



Handouts


Presentation slides and resources from this webinar will be available for download when you access the evaluation to obtain your certificate.



Credit Claiming


You must complete a brief evaluation within one year of the live program (before September 19, 2019) to claim your CE credit and download your certificate.
Follow these instructions to download your CE certificate:




Go to CE.TodaysDietitian.com/Microbiota OR log in to CE.TodaysDietitian.com, go to "My Courses" and click on the webinar title.
Click "Take Course" on the webinar description page.
Select "Start/Resume Course" on the webinar description page.
Complete and submit the evaluation.
Download and print your certificate.
Call 877-925-2355 or email ce@gvpub.com Monday through Friday from 9 AM to 5 PM EDT with any questions in regards to this webinar.