Subject: Celebrate Family Meals Month with Balance Your Plate
Click here to view in browser
Thank you for your continued support of Today's Dietitian. Below is information from one of our sponsors: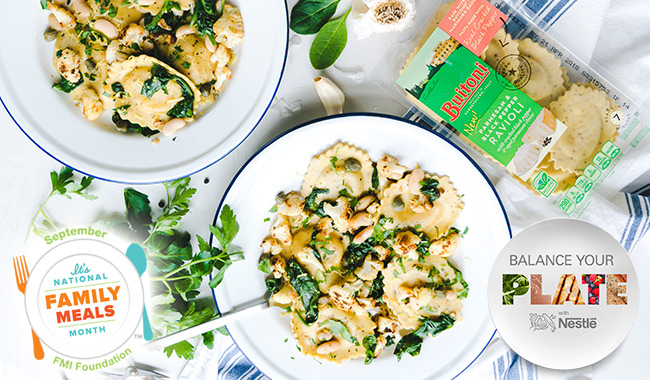 Photographed by Carlene Thomas, RD from CarleneThomas.com
Fill Your Table During National Family Meals Month



September's National Family Meals Month, led by the Food Marketing Institute, is an opportune time to celebrate the benefits of shared meals. Small or large, friends or family — meals are better when we eat together.



Overcome Modern-Day Constraints With One Simple Equation



We get it — busy schedules are a barrier. Cue Balance Your Plate with Nestlé — a mealtime solution to fit within your packed calendar. Balance Your Plate is a simple equation for building delicious, nutritious and convenient meals that meet MyPlate recommendations. And since frozen and refrigerated entrées slash time in the kitchen, you can shift your focus to what matters most — quality time with friends and family.
| | | | | |
| --- | --- | --- | --- | --- |
| Frozen Entrée, Frozen Pizza or Refrigerated Pasta | + | Quick, Easy and Nutritious Side Dish | = | A Balanced Plate |
To inspire your #FamilyMealsMonth with #BalanceYourPlate, we've gathered some of our favorite recipe videos below. Explore these dishes in your own kitchen or use their pairing recommendation as a mealtime guide.


BUITONI®
Three Cheese Tortellini


+


Skillet Primavera Chicken
STOUFFER'S®
Lasagna with Meat & Sauce


+


Broccoli Soup


+


Roasted Pear
DIGIORNO® pizzeria!® Four Cheese Pizza


+


Crunchy Edamame
Chickpea Salad
Tag #FamilyMealsMonth with #BalanceYourPlate
on social media to share how you are joining the celebration.

Hungry for more recipe inspiration?
Visit the Balance Your Place website at www.nestleusa.com/balance
and browse our Pinterest boards at www.pinterest.com/balanceplate.