Subject: Can milk proteins cause post-dairy digestive discomfort? Will your patients and clients feel the difference?
View this email in a browser | Update your information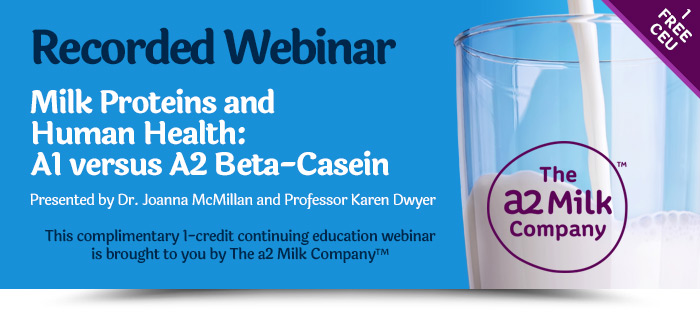 Millions of Americans experience post-dairy digestive discomfort (PD3), self-diagnose lactose intolerance, and avoid cows' milk. But there is strong evidence that lactose intolerance might not be the cause of PD3 for many of these milk avoiders. A better understanding of the proteins in milk can aid your efforts to counsel these patients and clients—and re-introduce real cows' milk to some, without the discomfort.

Learn more by viewing Milk Protein and Human Health: A1 versus A2 Beta-Casein, a new one-hour webinar, presented by Australian dietitian Dr. Joanna McMillan and Professor Karen Dwyer.

Ordinary cows' milk contains a mixture of A1 and A2 beta-casein. A growing body of research supports the notion that some people digest milk proteins differently, and that for these people, A1 beta-casein may be the cause of PD3.


About a2 Milk®



a2 Milk® is the first A1 beta-casein-protein-free milk available in the US. It's 100% real, delicious cows' milk. If introduced properly into the diet, a2 Milk® may allow your patients and clients who avoid milk or drink nutritionally inferior milk alternatives come back to the goodness of real milk, without experiencing digestive discomfort.



Disclosure



This complimentary 1-credit continuing education webinar is brought to you and accredited by The a2 Milk Company™. Please note that a2 Milk® provided financial support only and did not have input into the information provided in this course. View our disclosure policy.