Subject: CE webinars all autumn long
View this email in a browser | Update your information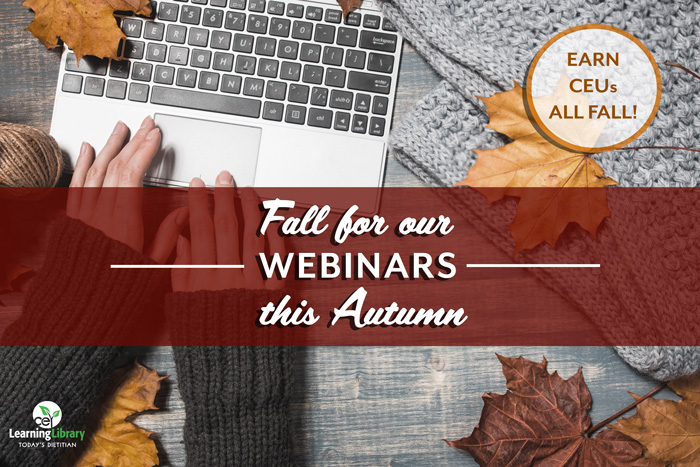 We've got CEU webinars practically falling off the trees this autumn, with a number of presentations scheduled for October and November.

Check out what's coming up and register for any or all of these informative webinars presented by leading subject matter experts.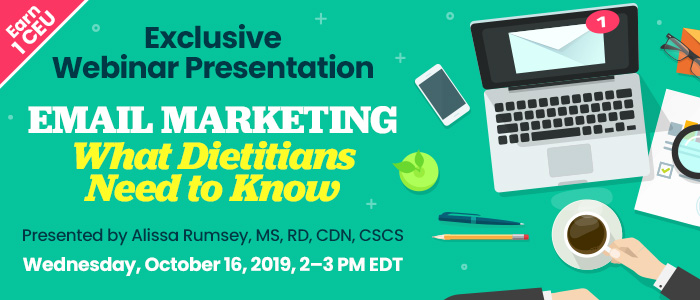 In our webinar hosted by Alissa Rumsey, MS, RD, CDN, CSCS, on Wednesday, October 16, 2019, from 2–3 PM ET, learn how to get started with email marketing. Alissa will teach you how to build your list and use it to successfully grow your client base. She will help you create an irresistible lead magnet to quickly build an audience, and help you realize the benefit of having a sales page. Finally, Alissa will highlight case studies to show how dietitians like you successfully used email marketing campaigns to increase their income.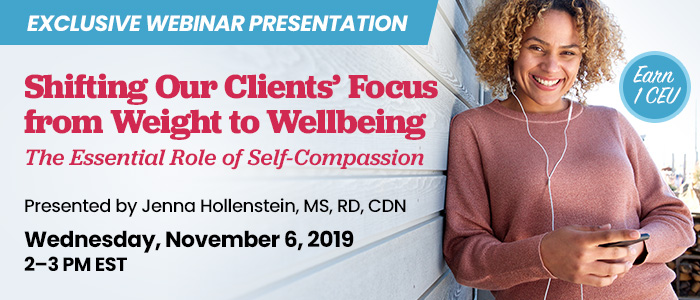 Join Jenna Hollenstein, MS, RD, CDN, for an interactive webinar on Wednesday, November 6, 2019, from 2–3 PM ET, as she discusses how to navigate this cognitive dissonance with extreme resilience and gentleness. A self-compassion practice allows individuals to acknowledge, tolerate, and accept difficult emotions while maintaining allegiance to the approach they know aligns with their own true wellness.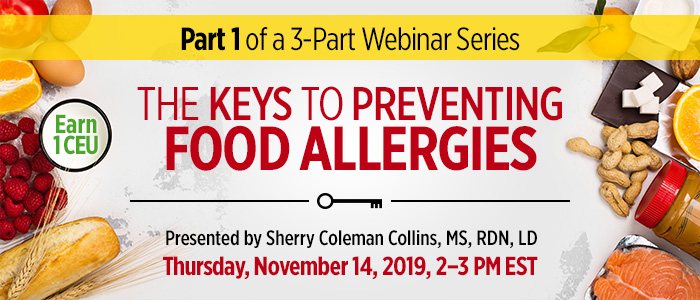 In part one of this three-part webinar series, join Sherry Coleman Collins, MS, RDN, LD, on Thursday, November 14, 2019, from 2–3 PM ET, as she reviews the research on nutrition intervention during pregnancy, infancy and early childhood, and takes a deeper look into reducing the risks for developing food allergies. Sherry will provide guidance for what the practitioner can do now based on the evidence, and make recommendations on what to watch for in the future.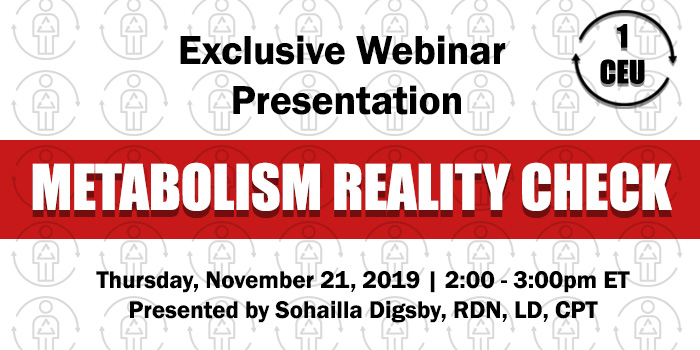 Join Sohailla Digsby, RDN, LD, CPT, international speaker, RD, and fitness pro on Thursday, November 21, 2019, from 2–3 PM ET, as she reviews the current research, strategies, and practical routines that will help RDs and their clients maximize metabolic health and enhance comprehensive wellness.


Visit CE.TodaysDietitian.com/webinars for all upcoming live and recorded webinars available for credit.