Subject: CA Raisins Nutrition Handbook for Diabetic Educators
View this email in a browser
Thank you for your continued support of Today's Dietitian. Below is information from one of our sponsors: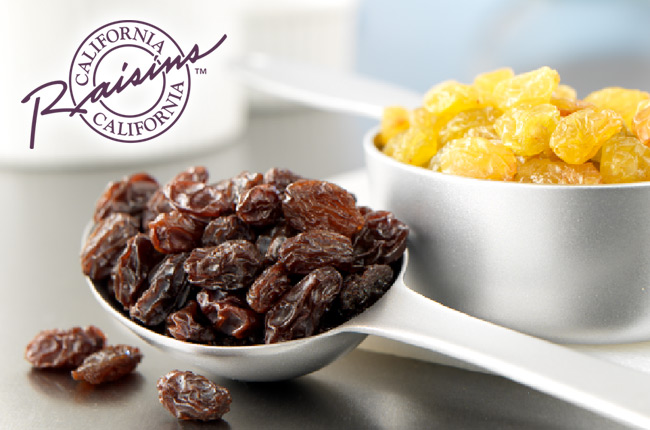 1 carbohydrate
choice of
fruit = 2 T raisins.

An estimated 86 million Americans have prediabetes, and 90 percent of them don't know they have it. Prediabetes can lead to type 2 diabetes and its many serious complications. It's crucial for people to know their risk because prediabetes can be reversed with healthy food choices, weight loss, exercise, and other lifestyle changes and medication¹.

Over the years, California Raisin growers have invested in nutrition research to evaluate raisins' influence on important topics such as diabetes. Research* suggests that raisins may improve glucose levels and systolic blood pressure among people with type 2 diabetes mellitus (T2DM)².

A 12-week study among 51 individuals with T2DM found that regular consumption of raisins-as compared with a variety of other snacks—positively impacted both glucose levels and systolic blood pressure. The research, published in The Physician and Sportsmedicine, revealed study participants who consumed 1 oz of raisins three times a day for the duration of the study, as compared with a group that ate a comparable amount of snacks of equal caloric value, were shown to have:
a 23% reduction in postprandial glucose levels;
a 19% reduction in fasting glucose,
and a significant reduction (8.7 mmHg) in systolic blood pressure.
The study was conducted at the Louisville Metabolic and Atherosclerosis Center (LMARC) by lead researcher Harold Bays, MD, medical director and president of L-MARC.



To view the Nutrition Handbook for Diabetics,
including the study and diabetes-friendly raisin recipes click here:

Today is American

Diabetes

Association

Diabetes Alert Day

®.

*Cardiovascular disease is affected by various factors.

1. Diabetes.org
2. Bays H, Weiter K, Anderson J. A randomized study of raisins versus alternative snacks on glycemic control and other cardiovascular risk factors in patients with type 2 diabetes mellitus. Phys Sportmed. 2015;43(1):37-43.