Subject: Advance Registration Rate for 2017 Symposium
www.TodaysDietitian.com/ss17 | Trouble viewing this e-mail? Go here.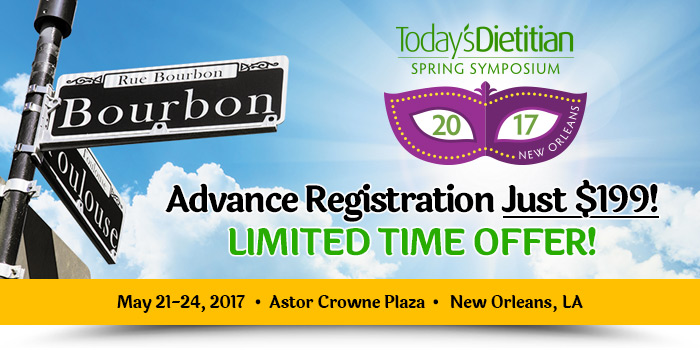 After our biggest, most successful event to date this year in Orlando, Today's Dietitian invites you to take advantage of our incredible advance registration rate of $199 for the 2017 Spring Symposium in New Orleans.

Like our previous events, the 2017 Spring Symposium will provide an intimate and engaging continuing education experience, centered on a program of sessions led by experts in the field of nutrition and dietetics. Our 2017 program will cover a diverse range of topics, all applicable to the practice and professional development of nutrition professionals.

Unlike any other event designed for dietitians, our Spring Symposium offers a level of engagement, interaction, and meaningful person-to-person contact between our attendees, our session presenters, and our sponsors that is truly different and quite extraordinary for a professional meeting. Here's a sampling of feedback we received from attendees of our recent event in May:



"I honestly can't pick just one thing I liked. I really enjoyed the overall feel/attitude of the conference. It was fun and energizing! I was pleased by the range of topics presented and, of course, I appreciated the early morning workouts!"


"I really liked that the size of the conference enabled a lot of personal interaction with both attendees and speakers, as well as time and space to really see and interact with all the vendors. The topics were pertinent to my interests."


"I loved the time that we had to network and meet other dietitians.
The speakers in the sessions I attended were amazing."




Register now

to take advantage of our advance rate for 2017!