Subject: 3-CEU Webinar Series Special

View this email in a browser | Update your information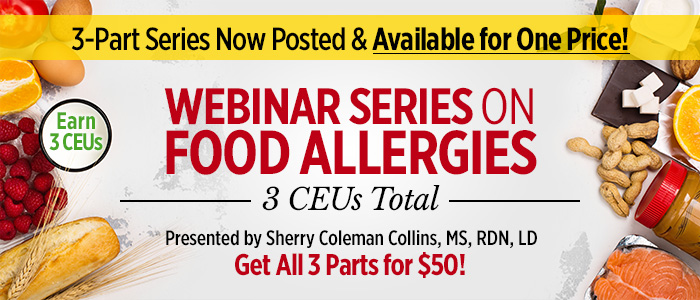 Noted expert Sherry Coleman Collins recently completed her 3-part webinar series on food allergies for Today's Dietitian.


PART 1: The Keys to Preventing Food Allergies
Sherry discusses how RDNs and others in the nutrition discipline can better understand the strengths and weaknesses of current food allergy diagnostic methods; how food allergies develop; and interventions that may reduce risk.

PART 2: Counseling For Food Allergies In Children And Adolescents
Review of how the RDN can be indispensable when educating parents and kids on proven tactics used to manage a food allergy. The role of the RDN as clinician and nutrition counselor is an essential part of improving outcomes for children with food allergies.

PART 3: Counseling For Food Allergies In Adults
This covers how the RDN can help clients learn to manage risk around social settings, intimacy and dating, and understand the keys to reducing the risk of food allergies in their offspring, in addition to the obvious food preparation and cooking skills.



All three parts are now posted on and available at https://ce.todaysdietitian.com/Webinars.

If you missed these informative presentations,

we're offering a special package price of $50, but only if you purchase all three parts by the end of February!

Now through February 29, just place all three recorded webinars in your cart and

use coupon code

3ALLERGIES

to receive your special series package price.

* Offer valid until Saturday, February 29, 2020, at 11:59 PM EST. Offer cannot be combined with any other coupon. The $9.97 discount will be applied to the already-reduced CE Club Membership price.
About Our Presenter


Sherry Coleman Collins is president of Southern Fried Nutrition Services in Atlanta, Georgia. Sherry specializes in food allergies and sensitivities, digestive disorders, and nutrition communications, and develops and delivers food allergy education for consumers and training for professionals in foodservice, school nutrition, and general nutrition. Sherry is also an avid cook, and teaches cooking classes, shares recipes, and helps people live better by learning to navigate the world of food with ease. She also writes about food and nutrition for a variety of online and print publications and is frequently quoted and interviewed as an expert in the areas of food allergies, nutrition, and gut health. In 2016, Sherry was awarded the Distinguished Service in the Media award from the Georgia Academy of Nutrition and Dietetics (GAND), an award given to an RDN in Georgia who has exhibited exemplary service by providing evidence-based information to the media. In her spare time, you can find Sherry hosting the Southern Fried Girlfriends podcast.
Disclosures


Sherry Coleman Collins, MS, RDN, LD, has the following relevant disclosures to report: consultant to the National Peanut Board. The speaker certifies no conflict of interest exists for this program. View our disclosure policy.